An Unforgettable Goat Yoga Retreat In Upstate New York
By Jessie Festa. This guide to a goat yoga retreat in Upstate New York contains affiliate links. My Gilbertsville Farmhouse retreat was hosted, though all opinions are my own.
"Lower your body to the yoga mat. Then, push yourself into a table top position to prepare for Cat-Cow."
While I often move through these poses with my eyes closed, right now, surrounded by unobstructed Catskill Mountain views and towering farm silos dotting the landscape, they're wide open.
The clear blue sky is quickly becoming rich with swatches of purple, orange and pink as the sun sets over Gilbertsville Farmhouse. Gently, I nod my head up and…
BAAA!!! OHMPH!!!
The class erupts into giggles as Bonnie, one of the farm's adorable baby goats leaps like a spastic Superman onto my back for some lovin' (and hair eating).
No, this isn't goats gone wild. This is Goat Yoga in Upstate New York.
Yes, you read that right. Goat yoga is a thing — a pretty amazing thing if I do say so myself. Yoga already has curative and relaxation powers; couple that with being cuddled by adorable fury animals and it's as feel-good fun as you can get.
While I love NYC, as well as creating my own DIY wellness retreat at home, these types of getaways are essential to the mental health (read: sanity keeping) of any city dweller.
Actually, this need to escape the high-stress energy that bounces off New York City's crowded sidewalks and skyscrapers is exactly what led to the creation of Gilbertsville Farmhouse and its gorgeous countryside glamping tents, eclectic yoga offerings, and fun health and wellness vacation opportunities.
A Seriously Inspiring Woman
Meet Sharon Boustani, a Queens native turned country girl — not to mention a motivator to anyone who has ever had big business dreams. Sharon and her husband, Aldo, first purchased the farmhouse in 2005 when it was a working dairy farm. Originally they used it as a weekend getaway; but while the house got used, the existing barns did not.
Until Sharon saw a photo of a barn wedding and the seed of a dream was planted in her mind.
"I always say it's like when you're 18 and see a wedding dress in a magazine, cut out the photo and save it for your future wedding. I saved the photo, looked at it everyday and made it my screensaver. I was in love with the look, the aesthetic. After much consideration and discussion, we decided to convert our unused barn into something like what I saw in that photo, plus a little more glam!"
In 2013 a long re-purposing project was started, and the following year the Boustani's hosted their first wedding. What's special is they don't host tons of weddings every week; instead, couples spend the weekend on the property with their guests letting the magic of the place wash over them.
New ideas continued popping up in Sharon's mind, including the glamping tent village I stay in and the annual Goat Yoga retreat each fall.
What's so interesting about all this is that Sharon is a city girl who eloped and now owns a spectacular country retreat with rave reviews. Talk about inspiring! Her advice: "We learned that when you truly do something you enjoy, obstacles — although stressful — are merely opportunities for solutions, creativity and growth."
It's not just Sharon's story that makes the farmstay so compelling; it's Sharon herself. I'm not sure it's possible to go more mom-and-pop than Gilbertsville Farmhouse, as you're literally glamping — aka glamorous camping — on the 125-acre property where they live. During my weekend retreat I get to know Sharon's entire family, savoring iced tea on her patio and hiking with her older daughter Victoria to a beautiful creek on the edge of the property.
During Goat Yoga, her youngest daughter Olivia comes and places one of the goats on my back for a photo opp. You can see by the way she hugs the goat before placing him on top of me she really loves the animals.
While my cat back in NYC typically loses his mind and tries to kill me when I do yoga (he loves me), the goats gently come to the mats for a pet on the head and often jump on our backs to chill out (and, again, chew hair; they really love it!). There's more shrieks of laughter than in a typical yoga session, the retreaters giddy with goat cuteness.
Have you ever seen a goat jump off a yogi's back, belly-first? Hysterical!
No Judgments
That "anything goes" vibe in the yoga classes also transcends to the farmstay itself.
After the session Sharon leads us into the big Chandelier Barn, where wedding receptions take place all summer long. The name is fitting, as ornate chandeliers add a sophisticated touch to the rustic room.
There's also a long white clothed table next to a buffet of local dishes. Chicken francaise, fish, pesto pasta and other Italian delights from the local Nina's Pizzeria & Restaurant pair perfectly with the BYOB sauvignon blanc I brought.
(If you're looking for yoga and wine retreats, this is a great option!)
Along with the wine, conversation flows easily. Almost everyone there is a young traveler like myself, and some of the group is even from other countries like Poland and France.
I sit across from Victoria, who has done everything from cliff jumping in Croatia to studying abroad in Australia. Not surprisingly, we find a lot to talk about.
While their yoga wellness retreats are about wellbeing through being active, my sugar tooth is certainly not deprived. Dessert Course #1: a variety of cookies made by a local baker named Heather Melita who apparently manages a family with five children and an amazing baked goods business.
I've never met her, but she's quickly invalidated my usual "But I don't have time to learn to cook!" excuse.
Dessert Course #2: fireside s'mores paired with an al fresco big screen showing of The Birdcage with Robin Williams. Two classics enjoyed together for an amazing night under the stars.
Stars. Now there's something you don't see in the city. Thousands of twinkling fireballs light up the sky so bright you can make out the clouds even without the sun. See them below in the background?
A Slower Pace
Not surprisingly, I awake refreshed despite maybe one too many glasses of vino, sun streaming into my tent. The plush bed is so comfortable I lay wrapped in the blankets like an enchilada, taking it all in well after my alarm has gone off. No racing through breakfast to answer emails, no trying to keep up with the frantic city pace, no deadlines. Just Internet-free countryside where police sirens are replaced by songbirds.
A long al fresco breakfast is followed by another session of Goat Yoga, this time in the Chandelier Barn. Not surprisingly, it doesn't get old. I skip a few vinyasa flows in order to cuddle my new goat friends, attracting them with animal crackers. They also seem to enjoy a diet of water bottles and backpack straps.
At the end of class, the yogis get into their favorite positions and Katie, the farm's "goat whisperer" as she's lovely called, gently places them onto our bodies. I immediately learn my happy place is in Wheel Pose with Sydney resting on my tummy.
An Outdoorsy New York Afternoon
Yoga is followed by one of the most carefree afternoons of my life. Our group of retreaters has now grown close from meal and goat-time bonding. Together, we hike 20 minutes, passed the on-site hammock park and candlelit forest wedding walk to the edge of the property.
Here we come to a steep ravine, helping each other carefully down to a rushing creek. The group sits for a while, just taking in the peace of the place. The moving water so fresh you can drink it, the frogs that seem to peer out from every leaf, the trees shading us from the bright rays; it's breathtaking.
Next up: a dip in the Gilbertsville Farmhouse pond followed by a catered lunch in the grass, all while enjoying those gorgeous mountain views. Our group continues the fun with some DIY aperitivo on the glamping porches. Popcorn and jerky is passed around as wine glasses and beer bottles clink, adding to nature's soundtrack.
Tipsy from booze and sun, we soak up the alcohol with a buffet dinner in the milking barn. This is where cocktail hour often takes place during their weddings. It's a long narrow room lined with small burlap-topped hay stacks for seats, as well as adornments like funky cow art prints and XOXO bulb signs.
Nut-laced salad, seafood risotto, shrimp scampi and some of the freshest bread I've ever tasted provide sustenance for the activity to follow: Hip Hop Yoga.
Warrior 1 To Weezy
Seriously. Goat Yoga AND Hip Hop Yoga all in one weekend. Now, Sun Salutations and Warrior 1s are done to Justin Bieber and Kanye West. Not only that, but it becomes clear the elegant chandeliers above actually hold color-changing LED lights, washing the room in neon hues. Candles line the floor for an added glow, as the music energizes me to move deeper through my poses.
When the final song ends and our hands are in prayer at our hearts, "namaste" leaving our lips in unison, I realize how sad I am the weekend yoga — and the weekend itself — is almost over.
Luckily, everyone seems to be up for one last bonfire. Even Tigger, the kitten who just earlier had followed me into my tent, joins in.
While he doesn't have any s'mores, he perches next to me on a bench as our group continues sharing stories and talking about the retreat. Most importantly, we all pledge to come back in the fall when Gilbertsville Farmhouse holds their annual couples retreat. I'd been sending my boyfriend back home just a few hundreds of photos from the stay, his replies laced with happy faces and goat emojis.
We'll definitely be back come autumn. For the exercise, the true family-run hospitality, the idyllic farm setting, the animals, and the shared experiences with others wanting to retreat from city life in the best way possible. With goats and yoga.
Have you ever done a goat yoga retreat in Upstate New York?
Logistics:

Address: 336 Coye Brook Rd, South New Berlin, NY 13843

Price: The weekend retreat was $600 for two people sharing a tent. This also included 2 dinners, 2 breakfasts and 1 lunch, plus nightly s'mores and snacks. Additionally, it included 3 yoga glasses, a hike to the on-site creek and access to amenities like their swimming pond, volleyball net and forested hammock park.

Fitness Level: While you'll definitely get active, the retreat is laid-back and relaxed and perfect for beginners (or people who have never done yoga but want to be surrounded by adorable animals).

Car Rental: I'm a huge fan of Enterprise Rent-a-Car, especially as they pick you up to bring you to their center.

Where To Rent: Do NOT rent a car in NYC. Instead, take the train outside of the city. For example, for a Friday-Monday rental from Enterprise Rent-A-Car in Croton-on-Hudson — about an hour on the train from Grand Central — I paid $101 (without insurance as my Chase Sapphire Reserve credit card includes it). When I priced out an Enterprise rental from Friday-Sunday — one day less than the other reservation — it was $475.48 (without insurance).

Even WITH an extra day added to my reservation I saved hundreds of dollars with this trick. Plus, I avoided driving through crazy Manhattan traffic, and started 60 minutes closer to my destination.

The Drive: Just…wow. Honestly from Croton-on-Hudson all the way to the farmhouse the scenery was breathtaking; the kind that reminds you how much green there is on this planet, and how small we really are in this big beautiful world.
Enjoyed this post on goat yoga in New York? Pin it for later!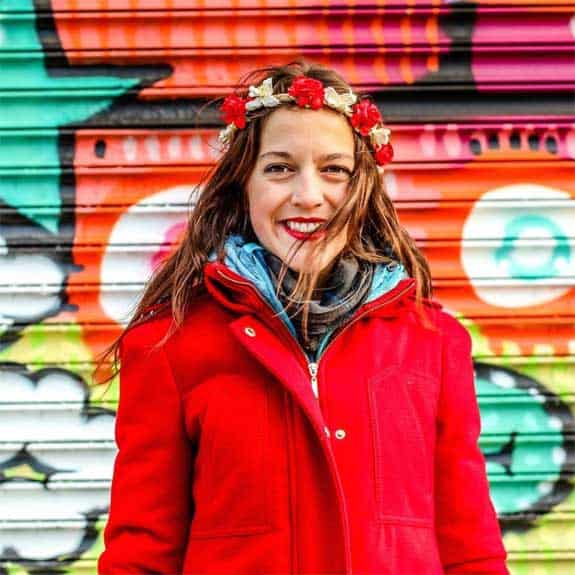 Hi, I'm Jessie on a journey!
I'm a conscious solo traveler on a mission to take you beyond the guidebook to inspire you to live your best life through travel. Come join me!
Want to live your best life through travel?
Subscribe for FREE access to my library of fun blogging worksheets and learn how to get paid to travel more!