Discover New York: A Decadent Raw Chocolate Factory In Bushwick, Brooklyn
I LOVE CHOCOLATE. I can't say that makes me unique at all; however, I do believe there are many who have yet to experience the joys of real non-drug store chocolate.
Not to sound like a snob — I've definitely had (gorged on) my fair share of Hershey's Bars — but it's hard to go back after touring cacao plantations in Ecuador and Saint Lucia, not to mention the sustainably-focused Mast Brothers in Williamsburg, Brooklyn.
Funny enough, I was coming back from my weekly Mast Brothers jaunt (don't judge, it's good!), walking back from the Morgan L stop in Bushwick, my head turning like the exorcist as it often does when I'm immersed in colorful street art, when I literally walked into a sign for a chocolate factory. When did that get there? I walk this way almost every day.
How had I not noticed it? Was it always there and I was just too preoccupied by the outdoor art works of the Bushwick Collective to notice?
Part of the reason I never noticed it may be the fact it was a dark black sign with the words "Fine & Raw" haphazardly written as if a 3-year-old had scribbled it.
I couldn't help but wonder if it was a real establishment or someone making chocolate out of their loft. Actually, that constitutes a real establishment in Bushwick. And so I followed the light white arrow directing me down Seigel Street.
Fine & Raw Chocolate (288 Seigel Street) wasn't hard to find, although at first I wasn't 100% sure they were even open.
But in true Bushwick fashion they were indeed open, just sitting in a dark space with mis-matched furniture, clear plastic half-tables and eroding bare brick walls.
While eccentric and sort of like your eccentric best friend's — who probably lives in Bushwick — living room, I loved the artsy vibe inside.
Not to mention the open chocolate-making facility in the back so you can watch the chocolate-makers at work.
Oh yea, and the free chocolate samples placed out on the counter. In my book, this alone makes visiting one of the top things to do in Bushwick.
Fine & Raw Chocolate is void of refined sugar, dairy and additives. Instead, they focus on using organic and natural ingredients to create innovative raw and half raw/half roasted bars, crafted on low heat (raw chocolate must be cooked below 140 degrees Fahrenheit) to preserve the cacao's raw characteristics. Like wine, chocolate has terroir, and you should taste chocolate not just with your tongue, but with your eyes, nose, hands and ears (I was once told by an Australian chocolatier a fine piece of chocolate should have sound like the laughing of a young child when you snap it). At Fine & Raw Chocolate, the staff are happy to guide you in properly tasting their product.
It's really interesting seeing sacks of cacao beans sourced from some of the world's best chocolate regions — Madagascar, Colombia, Ghana — and being able to view every step of the process. Interestingly, chocolatier Daniel Sklaar started making these sustainable sweets in his loft in Williamsburg, a passion project friends and neighbors also became addicted to. As his name spread, he started delivering his chocolate by bike to look purveyors, until the operation grew to where it is today: a humble and delicious Bushwick warehouse factory.
And I'm happy they did. Because now I don't have to take the subway to get great chocolate. Some of their flavors include Sea Salt, Lucuma & Vanilla, Mesquite, 83% + nibs, and, my personal favorite, Bonbon, stuffed with a REAL CHOCOLATE BONBON. Chocolate stuffed with chocolate? Yes, please.
According to Fine & Raw's website, Katherine Hepburn ate a pound of chocolate per day, crediting this to her everlasting beauty. While I can't assure you that's 100% accurate, for now I'm choosing to believe it.
Other Chocolately Options Nearby
I'm the type of person who, once I start eating chocolate, it's hard for me to stop. Luckily, there are a number of restaurants nearby serving sinful chocolate desserts worth trying. While 983 – Bushwick's Living Room (983 Flushing Avenue) serves a gooey Chocolate Molten Cake topped with dulce de leche and strawberries, Fortunato Brothers Cafe (289 Manhattan Avenue) offers an African Cannoli rolled in chocolate and a tasty Bacio (chocolate hazelnut) gelato. And at the neighborhood favorite Little Skips Cafe (941 Willoughby), treats by local bakers rotate, but there are always chocolate — including raw and vegan — options.
What your favorite NYC chocolate experience? Please share in the comments below.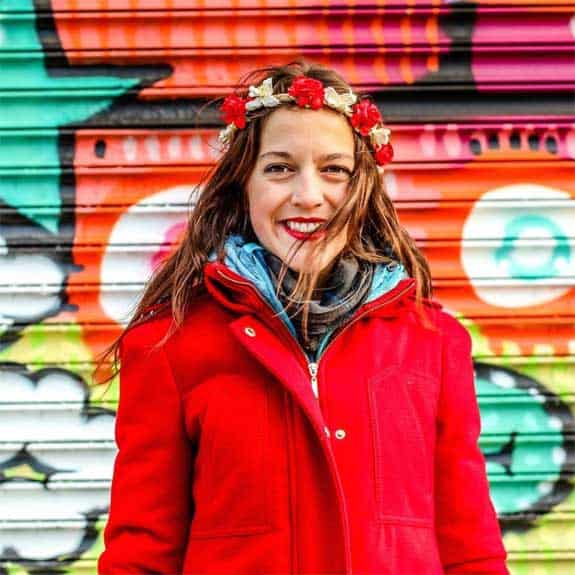 Hi, I'm Jessie on a journey!
I'm a conscious solo traveler on a mission to take you beyond the guidebook to inspire you to live your best life through travel. Come join me!
Want to live your best life through travel?
Subscribe for FREE access to my library of fun blogging worksheets and learn how to get paid to travel more!