Copan, Honduras: An Amazing Day In The World's Most Dangerous Country
This post is part of a multi-story series based on my latest trip with Intrepid Travel. Here is the trip link. 
Before visiting Honduras, I always pictured there to be violence and crime at every corner. Actually, according to a 2014 Wall Street Journal article it's the "world's most dangerous country outside a war zone." W
hile I'm not disputing facts and figures, I can't help but see this as a prime example of how the media can scare people out of having really worthwhile travel experiences.
Just because a country has issues or receives negative press doesn't mean there aren't worthwhile aspects to it and places to explore.
In short, in this Honduras travel guide, I'm going to share with you why I think the country is awesome.
That being said, in these instances, you may also want to hire a local guide or go with a locally-guided tour group. I was recently invited by Intrepid Travel to experience their 17-day Way to San Jose tour, which spent a week in Honduras.
I loved every second of it, especially Copan, a town rich with Mayan history. This was my first encounter with Honduras, and it definitely won't be my last.
Here's how I spent one perfect day in "the world's most dangerous country," although keep an eye for more Honduras posts, as I'll also be sharing about my time spent in Roatan Island on the Caribbean Coast.
Copan Stay: Hotel Calle Real (~$15 per person, per night)
This property is simple and comfortable, a driveway and open-air kitchen surrounded by tropical plants and guest rooms. My room had two beds, a window, a fan, a television with American channels, soap and shampoo packets.
There was free Wi-Fi in the reception and eating areas, not to mention the sweet woman who made the food was adorable, and gave you a smile that would brighten your day despite the fact she starts cooking at 5am. Try her baleada, a traditional Honduran dish that includes a flour tortilla stuffed with beans, cheese and cream — and egg, if you'd like.
Morning
After a delicious breakfast at Hotel Calle Real walk over to Copan's famous Mayan ruins, well-preserved thanks to the fact the Spanish never found it. In fact, the site was active from about 300 BC to 800 AD, but wasn't discovered until the early 10th century. Today, it's a UNESCO World Heritage Site, and a well-preserved one at that with a main complex and five plazas, glyphs and impressive carvings dotting structures like The Acropolis, various temples and the royal dynasty.
You can also see the Hieroglyphic Stairway, "the longest inscribed text in the Maya region." Many of the structures you're able to walk to the top of, giving aerial views of the ancient site.
I'd also recommend venturing down into the tunnels, located under Copan's Acropolis. Though it feels like an ancient Mayan ghost may pop out at any time, it's cool to see the temples and tombs from an underground perspective. There's also an onsite museum full of original Mayan artwork and carvings, and explanations on Mayan beliefs and symbolism for each.
Price: ~$37 USD for all three attractions, although if you'd just like to wander the main site it's ~$15.
Lunch
Have a meal at Carnitas Nia Lola, a fun spot with that makes you feel like your crazy aunt's attic threw up with USA license plates, old-fashioned dangling bells, Mayan statues, old records, mismatching fans, wooden instruments, globes and other bits of oddity and nostalgia. Also, the waitress will bring your food and drinks in her hands…and on her head. I tried to do this myself and it didn't work out so well.
Make sure to order the mixed meat kebabs with corn, onions, peppers and pineapple, which you can watch being made over a firey grill.
Afternoon
Head to the Luna Jaguar Natural Hot Springs & Spa and relax those sore muscles from walking the ruins and nature paths. There are numerous pools all along a winding jungle path, ranging from cold to melt-your-skin-off hot to soothing mud baths.
What elevated the experience was my Intrepid Travel guide bringing a giant cooler of rum, beer and meat, as well as a local to cook said meats to help us soak up some of the alcohol. Let's just say the evening ended with an hour-long 90s karaoke session in the van back to the hotel, which may or may not have been fueled by Flor de Cana Rum.
Party
Don Toño Bar y Restaurante, located three blocks from the hotel. They have music every night and in the evening you can get down to a unique mix of dirty rap, salsa, electronic and classic rock. It's also budget-friendly, starting at about $2 for a beer. Get ready for a lively and boozey night, and a very social vibe that makes it easy to meet both locals and visitors.
If you go out during happy hour, head next door to the family-run Kay Chij, with hammocks, grilled meats and simple drinks. It's a pretty new spot, and the local family loves chatting with their guests.
Next up: Roatan Island, Honduras' Caribbean paradise.
For more posts from my Way to San Jose trip, click here. Bonus: Get 25% off last minute deals with Intrepid Travel by clicking here.
Essential Information:

Border Crossing Notes: For the Americans, Europeans and Australians crossing the border from Guatemala into Honduras was super easy, especially with our Intrepid Travel guide Javier organizing everything and telling us exactly what to do. That being said, we had one traveler with an Kenyan passport who had a really difficult time getting through, despite having the proper paperwork/visa. If you have an "uncommon" passport realize you may need to resort to a bit of bribery. You may also want to have your consulate's contact information handy in case needed.

Currency: You can use US dollars almost everywhere in Honduras, although you may not always get the best exchange rate. The local currency is the Honduran lempira. As of October 1, 2015, $1 USD=about 22 lempiras.

Outlets: My USA plugs worked fine without an adapter, including my laptop.

Language: Spanish, but some people also speak English. Knowing a few key phrases in Spanish will be helpful though. A small pocket dictionary can also be helpful.

Safety: While I didn't feel particularly unsafe in Honduras, it's still Central America and a substantial amount of crime exists. I'd recommend a lock for your day bag with your valuables inside (I lock the zippers together), a safety whistle and Clever Travel Companion pickpocket-proof garments.

Read: Moon Honduras & the Bay Islands (Moon Handbooks) by Amy E. Robertson; Banana Cultures: Agriculture, Consumption, and Environmental Change in Honduras and the United States by John Soluri; Don't Be Afraid, Gringo: A Honduran Woman Speaks From The Heart: The Story of Elvia Alvarado by Elvia Alvarado
*My trip to Central America was hosted by Intrepid Travel. I was not compensated nor required to write this post. As always, all opinions are 100% my own.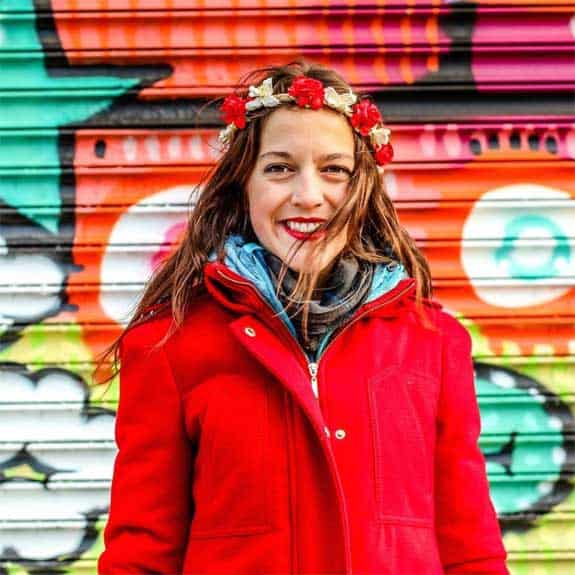 Hi, I'm Jessie on a journey!
I'm a conscious solo traveler on a mission to take you beyond the guidebook to inspire you to live your best life through travel. Come join me!
Want to live your best life through travel?
Subscribe for FREE access to my library of fun blogging worksheets and learn how to get paid to travel more!