The Adventure Traveler's Guide To Jordan
While often touted as a top destination for history and religion, Jordan is also home to an array of experiences for adventure-seekers. From skydiving over the dramatic landscape of Wadi Rum to scuba diving shipwrecks, the country is full of adrenaline-pumping adventures. To help you get your heart rate up in Jordan, here are my top suggestions.
Shooting, Paintballing & Cart Racing in Amman
Amman isn't just a place for great nightlife and history, it's also home to some fun adventures. Start by visiting one of the local shooting ranges, like the Royal Jordanian Shooting Club or the Action Target Shooting Club, for some target practice. Afterward, use your new shooting skills to fire balls of paint at your friends during a paintballing session at the Mountain Breeze Country Club. Here you'll also be able to take part in archery, camping, beach volleyball and football. Moreover, local riding clubs like Princess Alia Center for Riding or the Arabian Horse Club will get you out of the city and into the desert.
Skydiving in Wadi Rum
Wadi Rum is best known for being the place where Lawrence of Arabia operated throughout 1917 and from where the strike on Aqaba was launched. The valley's striking desert terrain, melted cliff tops, jagged peaks and colourful sandstone skyscrapers make for a dramatic Mars-like landscape, especially when viewed from above. Skydive Jordan allows you to free-fall from 13,000 feet until your parachute bursts open and you can float and take in the scenic beauty from the clouds.
Want to continue your adrenaline rush? Other Wadi Rum adventures include trekking, mountain climbing, hot air ballooning, camel riding, horseback riding, mountain biking, camping, 4×4 riding and ATVing.
Bedouin Camping in Wadi Rum
While there are many places to camp in Jordan, one of the most interesting experiences can be had in Wadi Rum at the Captain's Desert Camp. The campsite features traditional Bedouin tents made of goat hair, with pathways and rooms illuminated by candlelight. You'll enjoy activities like learning Bedouin song and dance, smoking shisha and falling asleep under the stars. A highlight of the experience is seeing the unveiling of the evening meal, which is cooked underground in a mud oven using dry wood and earth to trap heat. The result is juicy chicken served with rice, slow-cooked carrots and potatoes, hummus, shrak (traditional Bedouin bread) and other traditional foods.
Scuba Diving in Aqaba
Aqaba is Jordan's only port, and provides a beach resort-type destination for travellers who want to swim in turquoise waters and sunbathe on soft sand. For an adrenaline rush, opt to scuba dive in the Red Sea's azure waters and see the area's more than 500 coral species up close. Scuba diving is offered year-round in Aqaba—which is home to over 30 main diving sites—with June and July being a great time to see whale sharks and February being popular for manta rays. One popular dive site that has something for everyone from beginners to technical divers is First Bay, where you'll experience bizarre black coral trees, colourful parrotfish and the opportunity to visit the thrilling Death Valley with its strong current, fan and whip corals and depths reaching over 100 metres. For a shipwreck dive, head to the Wreck of the Cedar Pride, where you'll take in a Lebanese freighter that sank in 1985 and is now home to a variety of soft and hard corals and curious fish. Other popular dives from Aqaba include Eel Garden, Black Rock, Seven Sisters, Oliver's Canyon and Yellowstone Reef.
Hiking to Petra
No visit to Jordan is complete without visiting the iconic Petra, an ancient city believed to have been established around 7,000 to 6,500 BC by the Nabataeans. The historical attraction is home to over 800 monuments, rock-cut tombs and temple facades, rock reliefs and gathering places. The most impressive sites within Petra are the Monastery and the Treasury. While Petra itself has numerous hiking trails, you can add even more adventure to the experience by hiking to Petra itself. The best place to start is the Rummana Campsite in the Dana Biosphere, where you can enjoy home-cooked Jordanian food and sleep under the stars. The hike takes four nights and five days and brings you through all three of Jordan's climates: tropical, Mediterranean and Saharan. You can hire a porter to carry your equipment, cooking supplies, tents and backpack by contacting Petra Caravan Tours. You can also choose to begin the hike from Feynan Ecolodge, which promotes local experiences and conservation.
Canyoning in Wadi Mujib's Gorge
Past the jagged peaks and sand dunes and down into the vibrantly coloured gorge of Wadi Mujib lies a world of adventure. The experience begins with a challenging uphill trek where you'll take in aerial views of the stunning Wadi Mujib before heading into a water-filled gorge. In this narrow canyon you'll traverse over boulders thigh-deep in water, gliding down slippery stone slides, plunging into waterfalls, rolling over boulders and rapelling down cliffsides . It's a true adrenaline rush. It is recommended to book this experience through Wadi Mujib's visitor centre at least four days in advance.
What are your favorite experiences for adventure travel in Jordan?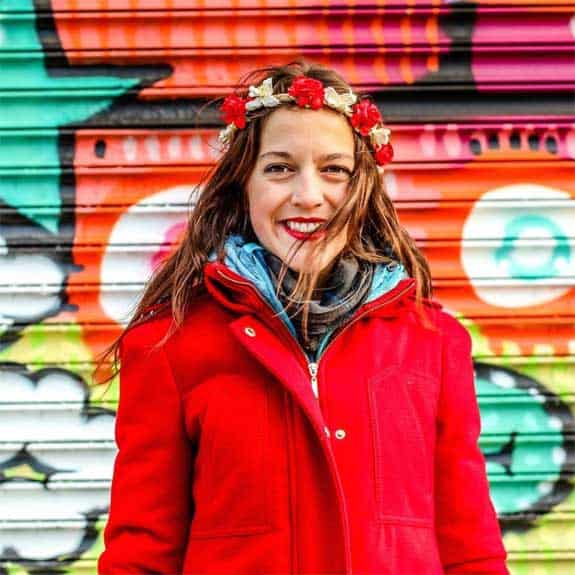 Hi, I'm Jessie on a journey!
I'm a conscious solo traveler on a mission to take you beyond the guidebook to inspire you to live your best life through travel. Come join me!
Want to live your best life through travel?
Subscribe for FREE access to my library of fun blogging worksheets and learn how to get paid to travel more!