Acadia National Park Sunrise Hike: Otter Cliff To Ocean Path (Epic!)
By Jessie Festa. The guide to hiking in Acadia National Park at sunrise contains affiliate links to trusted partners!
Looking for an epic Acadia National Park sunrise hike that isn't Cadillac Mountain?
Then you're in the right place!
Acadia National Park is known for its beautiful sunrises; but, while most people visit the popular (and crowded) Cadillac Mountain for sunrise, there is another stunning option:
Otter Cliff and the Ocean Path, a beautiful and easy hike well worth waking up for.
While you can choose to begin at nearby Otter Point, you'll take in the best sunrise from Otter Cliff, one of the highest coastal headlands on the Atlantic at 110 feet.
From this pink granite perch, you'll enjoy stunning views out over the Atlantic Ocean, as you watch the sun rise above the horizon to slowly illuminate the water and the craggy coastline with its many coves.
Additionally, you can further appreciate the soft glow of the sun waking up the park by continuing on Ocean Path, an easy but incredibly scenic 2.2-mile trail offering some of Acadia's best vistas as well as access to popular attractions like Thunder Hole and Sand Beach.
Intrigued? If this Acadia sunrise hike sounds good, then read on for full information on how to do it — with photos to really show why this trek is so special.
Quick tip: Need help planning your national park trip? Fellow blogger and outdoor adventure expert Alex on the Map offers custom national park trip itinerary planning. Click here to learn more about her services!
What Type Of Hiker Are You [Free Quiz]
But first, before we dive into our guide to hiking at sunrise in Acadia National Park, I want to share a free personality quiz I think you'll love:
Discover your hiking personality in this fun and short hiker personality quiz, which also shares trail suggestions based on your results.
Once you've grabbed the quiz, read on to learn about one of the best hikes in Acadia National Park, particularly at sunrise.
Where To Watch The Sunrise In Acadia National Park
While this guide focuses on the Otter Cliff to Ocean Path Acadia sunrise hike, this is hardly your only option. A few others include:
Cadillac Mountain. This is the most popular sunrise hike in Acadia National Park, as it is the highest point in the park at 1,530 feet and, between October 7 and March 6, is also the first place in the United States to view the sunrise. You'll see it in every Maine travel guide.
The downside? It gets crowded!
Because of this, the national park has instituted a permit system, and you'll need to pay $6 to drive up Cadillac Summit Road from late May through late October. Plan accordingly, as there are limited reservations granted. You can visit the national park website for full details and to make your reservation for sunrise in Acadia National Park.
Pro tip: you can also opt to visit at sunset! I did this and it was a beautiful experience. While the summit was cloudy on the day I visited, the road up to the top offered stunning views.
Dorr Mountain. If you want to escape the Cadillac Mountain crowds while still doing an Acadia National Park sunrise hike that gives you some height, opt for Dorr Mountain.
From here, you can take in sunrise views from 1,260 feet. Afterward, take the Gorge Path to connect with Cadillac Mountain — enjoying its famous panoramic views in (relative) peace after the sunrise crowds have left.
Gorham Mountain. Gorham Mountain can be done as an Acadia sunrise hike on its own, or it can be combined with the Ocean Path to form a loop trail.
Located on the east coast of Mount Desert Island, you'll be able to see the water, islands, and many popular Acadia attractions — like Sand Beach, the Beehive, and Otter Point — from the top.
Tips For Doing An Acadia National Park Sunrise Hike
Before setting off on your sunrise hike in Acadia National Park, it's wise to understand a few important tips, like:
Make a reservation if seeing the sunrise from Cadillac Mountain. I mentioned this above, but you'll need to head here to pay a fee and make a reservation, as the park aims to limit the number of visitors to this popular sunrise point in Acadia National Park.
Research when sunrise is in Acadia. The answer will vary depending on when you visit. You can look it up online or check at the gate when entering the park. On the outside of the booth, you'll see the following day's sunrise time written.
Arrive before sunrise. You'll want to arrive at your intended sunrise destination at least 20 minutes before the actual sunrise. If heading to Cadillac Mountain for sunrise, allot even more time as you may need to wait in line to have your reservation checked.
Bring a headlamp or flashlight. Since you'll be arriving to Acadia before the actual sunrise, it'll be pretty dark. A headlamp or flashlight can help — especially if you're doing a longer Acadia sunrise hike like Gorham Mountain.
Dress warm. I visited during summer, and while it got hot during the day, I was quite chilly while waiting for the sunrise at Otter Cliff.
Pack for a day of hiking. Since you're already in the park, it's smart to pack lunch and your gear to explore some of the other incredible Acadia National Park hiking trails.
Plan your Acadia sunrise hike early in your itinerary. During my Maine coastal road trip, there were a few days of bad weather. Planning to do your sunrise hike at the start of your visit gives you flexibility in case there is rain.
Getting Around Acadia National Park
The easiest way to get around Acadia National Park, especially when you're on a tight schedule and trying to get to a certain point by sunrise, is by car.
If you need to rent a car, it's recommend to check out Discover Cars to quickly compare your rental options.
Their comparison tool does the homework for you, so there's no need to have up 10+ tabs trying to figure out which company is the most affordable. Actually, you can save up to 70% using their tool!

Additionally, you can make use of public transportation via the Island Explorer Bus, which services Acadia National Park as well as other nearby Maine destinations like Bar Harbor. While you shouldn't have any issues finding parking at sunrise, lots can fill up later in the day, making the bus a smart option.
Finally, there are a number of guided tours that take you around Acadia National Park while sharing interesting history and information.
Hiking Otter Cliff To Ocean Path At Sunrise: Quick Facts
Otter Cliff Trailhead: You can park at the Otter Cliff Overlook Parking Lot (click here for a Google Map). From the parking lot you can simply walk over to Otter Cliff, no hiking necessary. Your Acadia National Park sunrise hike happens when walking along Ocean Path.
Option to start at Otter Point: Near to Otter Cliff is Otter Point. Technically Ocean Path runs from Otter Point to Sand Beach, with Otter Cliff being in between those points.
If you'd prefer to start here to do the entire Ocean Path Trail, there is a parking lot right near Otter Point (click here for a Google Map).
Difficulty: Whether you start from Otter Point or Otter Cliff, this is an easy and relatively flat Acadia National Park sunrise hike.
Length: Hiking Ocean Path in Acadia at sunrise from Otter Point to Sand Beach is 2.2 miles one-way. If you opt to skip Otter Point and start at Otter Cliff, the trail is a little shorter at about 2 miles one-way.
Trail Map: Click here for a Google Map of this Acadia sunrise hiking trail.
Trail Highlights:
Stunning coastal views with a wide variety of viewpoints
The chance to explore the beautiful Sand Beach
Opportunities to visit popular Acadia attractions like Thunder Hole, Boulder Beach, and Monument Cove, as well as to connect with other scenic hiking trails like Gorham Mountain
Hiking Ocean Path At Sunrise In Acadia [Step-By-Step]
It's still pitch black out as my husband Andy parks the car in the almost empty Otter Point Parking Lot.
We grab our flashlights and zip up our windbreakers, feeling the slight sting of pre-dawn chill as we make our way in the dark toward Otter Point to wait for a much anticipated Acadia National Park sunrise.
Otter Point is part of the stunning Ocean Path, which stretches between Otter Point and Sand Beach. It's one of the best sunrise hikes in Acadia National Park.
We find an outcropping to sit on, though as time passes, we begin to realize that the view only seems to be getting cloudier. There isn't a hint of light in sight.
Luckily, we spot a few other hikers passing us to continue along Ocean Path and we decide to follow.
This ends up being a smart decision, as it soon becomes clear that a better Acadia sunrise view is waiting for us at Otter Cliff, a stunning pink granite headland located about 10 minutes around a bend in the trail.
Otter Cliff is unmistakable from its prominent perch at 110 feet, surrounded by rocky outcroppings that jut dramatically into the Atlantic Ocean.
You'll see many of these outcroppings and other dramatic scenery along the Ocean Path hike, with layers of Mother Earth overlapping to form a multidimensional view that's made even more pronounced with the crashing of ocean waves against rugged coastline.
Taking a seat on one of the outcroppings, I relish in the fact that, unlike the wildly popular Cadillac Mountain, there is almost nobody here. We have this extraordinary place all to ourselves, with the vast landscape and its tall trees and giant rock formations seeming to stretch on forever.
I feel like a tiny pebble drawn into the world's largest painting, reminding me just how small of a space I take up in this big beautiful world.
And then it happens. The sun begins to rise over the Atlantic.
It's a super foggy morning, so the colors aren't as vibrant as they would be on a clear day, but the pastel hues seeping through the clouds onto the cliffs create a delightful scene.
There's something truly special about waking up with nature; seeing darkness slowly turn to light as the sun floats above the horizon to illuminate the beauty around us all.
Once the sun is up, we walk Ocean Path to see its many other Acadia attractions and views along the way.
The scenic path rolls gently up and down through the trees along the coast, sometimes moving over root and rock and other times over stone steps.
Every few minutes, the trees part to showcase another vista, similar to the last but just different enough to warrant me getting out my camera to snap away.
Along our sunrise hike, we see Monument Cove and its natural granite pillar (that resembles a monument), and Boulder Beach, a unique beach showcasing thousands of boulders.
There's also Thunder Hole, a small inlet where park-goers come to see — and hear — the sea crashing against the rocky shoreline.
My favorite section of this Acadia trail comes when reaching Sand Beach, a geological rarity thanks to it being a cold water beach featuring shell-infused sand. In fact, 70% of its sand consists of broken shells from mussels, sea urchins, periwinkles, and barnacles.
You can take in the beach's beauty from the Sand Beach Overlook above, or from the soft sand of the beach itself.
While walking Sand Beach, I notice the view differs drastically depending which way I look.
To the left, morning mist dances around the pine trees and sea cliffs of Great Head. The sun shines through it, creating a hazy glow onto the beach.
To the right it's a completely different scene, with waves crashing onto nearby Old Soaker Island and the shores underneath Ocean Path.
Tracing our eyes along the slithering coastline and its many coves and beaches, we can make out where we started, before the sun had risen to illuminate the jaw-dropping beauty of Acadia National Park, which truly has so much to offer those of us who love the outdoors and adventure travel.
Where To Stay Near Acadia National Park
You've got many options for places to stay when visiting Acadia National Park.
Camping in Acadia National Park. First of all, there are a few campgrounds within the park, including two campgrounds on Mount Desert Island, one campground on the Schoodic Peninsula, and five lean-to shelters on Isle au Haut. You can find full information about Acadia National Park camping on the National Park Service website here.
Staying at a hotel in Bar Harbor. Another popular pick is to stay in or near the walkable Bar Harbor Village, which is full of things to do and is less than 2 miles from Acadia National Park. A few top-rated hotels right in the village include:
Click here for a full list of Bar Harbor hotels.
Acadia National Park Tours
Along with seeing the sunrise in Acadia National Park, you can add a few of the following highly-rated tours to your itinerary:
Click here for a full list of Acadia National Park tours.
Acadia National Park Travel Insurance
When visiting Acadia National Park — or anywhere else in the world — it's wise to get travel insurance.
One of the best travel medical insurance for travelers is SafetyWing as they've got a large network and offer both short-term and long-term coverage — including coverage if you're traveling for months as well as limited coverage in your home country).
Additionally, SafetyWing is budget-friendly and offers $250,000 worth of coverage with just one low overall deductible of $250.
Click here to price out travel insurance for your trip in just a few clicks.
What is your favorite Acadia National Park sunrise hike?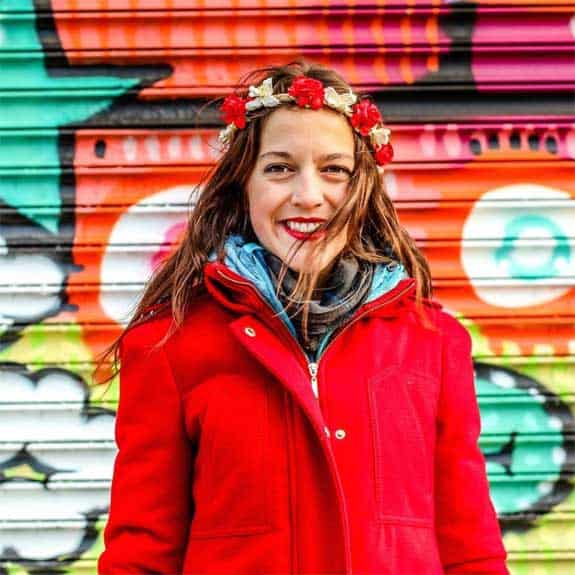 Hi, I'm Jessie on a journey!
I'm a conscious solo traveler on a mission to take you beyond the guidebook to inspire you to live your best life through travel. Come join me!
Want to live your best life through travel?
Subscribe for FREE access to my library of fun blogging worksheets and learn how to get paid to travel more!