10 Locals To Befriend On Your Next Trip
When traveling, interacting with locals can really enhance your trip. From showing you lesser-known sights to teaching you about local culture and giving you offbeat tips you wouldn't find in a guidebook, residents in the city you visit are worth getting to know. To help give you some travel insight, here are 10 locals to befriend on your next trip.
1. The Taxi Driver
Many travelers don't realize when they get into a cab they are actually stepping through a portal of information. They spend their days driving people all over the city, so they know the best places to go for just about anything you're looking for. Ask them for dining information, where to get a great view of the city, the best markets for getting a deal and what some of the more offbeat sites are. I'll usually even ask them to put together an itinerary for me with the question: "If you had friends visiting, how would you spend a day with them?"
Additionally, taxi drivers can tell you more than just where to go and what to see. These people have seen it all, and in my experience, are usually extremely open, fun and talkative. Even when I'm home in New York, my friends and I will often get into taxis and ask the driver to pretend we're in the Cash Cab and ask us trivia questions. I can't think of a driver who has ever declined. When I travel I always have about 10 million questions about everything from food to dating and fashion, and my cab drivers are the ones who get bombarded with them. And unless you ask something extremely inappropriate, they're usually happy to answer.
2. The Bartender
Nobody knows more local gossip than the bartender. These talented men and women work long into the night listening to people's personal stories — which tend to get juicer as the evening and alcohol progresses. Befriend a bartender to hear about a side of the city you won't read about in a guidebook or from the tourism board. Along with regaling you with interesting tales, you'll also learn insider knowledge on the area's drink culture and nightlife scene.
3. A Nonprofit Owner
To really get to know the place you're visiting you should gf to know the issues it faces. One way to do this is to befriend a local nonprofit owner or someone spearheading a community initiative. Along with better understanding the problems in the area and how they're being resolved, you can take part in helping to make a positive difference in the place you're visiting.
4. A Local Artisan
There's no better way to get to know a city's creative culture than through making friends with a local artisan. These talented people are often very involved in the community, so while also learning about local art you'll be given a glimpse into how people work together and the types of community events and programs that get put on.
5. A Chef At A Local Restaurant
The best way to get to know the local culture is through its food. Befriend a chef at a restaurant that specializes in making traditional local dishes for an in-depth look at how typical meals are prepared and what ingredients are popular. Befriending a local chef allows you to do more than just eat, as you'll gain an understanding of what you're sampling. Bonus: A friend who likes to cook is never a bad thing.
6. A Local Guide
Local guides show visitors around for a living, meaning they have insider knowledge on places other locals may not even know about. Befriending a local guide is especially worthwhile for those who want to discover hidden secrets about a place and experience the very best the city has to offer. One of the best tour guide friends I made was on San Cristobal Island in the Galapagos. My scuba diving instructor, Jens, and I began chatting on the boat, and the next day he came with me on a jeep tour of the island. The entire group was thankful, as our real guide couldn't speak any English, so Jens was able to translate as well as add in tidbits of his own knowledge. And when my camera broke at the beach, he was able to put me in contact with someone who sold me their used camera for a very cheap price.
7. Hotel Or Hostel Staff
Whether I'm staying in a hostel, hotel or guesthouse, I always try to befriend the staff. In fact, many of these people have become friends I still keep in touch with. Their job entails helping people to discover the best the city has to offer – not to mention they live there themselves – so they're happy to tell you the hidden secrets. After their shift, they may even offer to accompany you. On my last birthday, I was traveling solo in Mendoza, Argentina. I didn't want to spend the day alone, and confided this to my hostel receptionist, Javier. Luckily, Javier helped me get a group together that included hostel staff, locals and himself to go out for dinner at the "best asado restaurant in town" and for drinks at "Mendoza's best wine bar" to celebrate. It ended up being one of my best birthdays.

8. Local Children
Local children are great to befriend, not only because they're cute, but also because they usually love talking to anyone and everyone. Not only that, they think everything is interesting, so you'll get tidbits of knowledge most adults don't deem worth mentioning. For example, when I was in Ghana I did a homestay and volunteer program, and many of the children loved showing me their workbooks from school. Most likely, no adult is going to throw into a conversation, "so the children are learning about religion and household roles at school." However, it was fascinating for me to learn about the education system in the country, how it differed from the one in my country and what this said about Ghanian culture.
9. A Local Celebrity
Meeting a local celebrity can give you a quirky look into local culture. New York's Naked Cowboy, the Elephant Man in Barcelona and the Egg Lady in Gimmelwald, Switzerland, are just a few that I've encountered. They're usually famous for some quality they bring to the city, so meeting them is a unique experience. If you're not sure who the local celebrity is, ask your hotel, taxi driver or any of the other above-mentioned locals.
It's also possible to meet local celebrities. When I was living in Sydney, Australia, I won tickets to a film awards show. I had no idea what to expect, as I didn't know much about Australian films. The event was glamorous, with a red carpet, impeccable decor and free-flowing Champagne. While I didn't recognize any of the awarded names, I couldn't help but feel like a teenage girl meeting Justin Bieber at the after party. It was really exciting to sit and chat with these local celebrities who people in the film community deemed to be helping to put Australian movies on the world map. If performance doesn't interest you, you can seek out high profile locals in the communities you find worthwhile, like humanitarianism, cooking, farming or business.
10. The CouchSurfer
As an avid CouchSurfing member, I have spent much time abroad meeting locals through this medium. While some are expats and others have lived in the city their entire lives, all have a wealth of knowledge and are always excited to share it. Because the site is made for travelers who want to meet locals and vice versa, you know you'll be able to find someone who is excited to show you around. I've gotten to have some really "behind the scenes" experiences by meeting CouchSurfers, like watching local painters at work, learning to tango for free, attending a birthday party and helping to cook for potluck suppers.
*This post was adapted from my original article on Gadling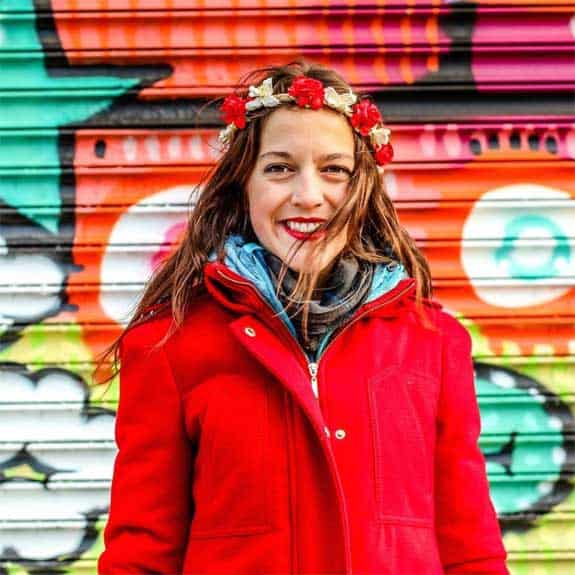 Hi, I'm Jessie on a journey!
I'm a conscious solo traveler on a mission to take you beyond the guidebook to inspire you to live your best life through travel. Come join me!
Want to live your best life through travel?
Subscribe for FREE access to my library of fun blogging worksheets and learn how to get paid to travel more!