Branding Your Blog: A 6-Step Strategy For Creating Your Profitable Brand [Podcast Ep. 1]
Before you can monetize your website or even grow a community, it's important to think about branding your blog.
Luckily, this short but powerful episode shares a six-step strategy for creating your profitable brand — to help ensure you're set up to make money from the start.
In this episode, you'll learn:
How to create a blog brand that helps you earn money by helping others (an important step in creating your travel blog business plan!)
Examples of bloggers that have done an incredible job of offering something niche and unique
How to gain clarity to always know exactly what your audience wants to hear from you
And more!
Creating Your Profitable Brand – Podcast Episode Audio
Listen to the full episode using this embedded player…
…or click the links below to tune in on your preferred audio platform:
Click here to listen on Apple Podcasts/iTunes
Click here to listen on Spotify
Click here to listen on SoundCloud
Click here to listen on TuneIn
To help you really jumpstart your blogging success, I've added 25+ blogging resources like printables, video tutorials and workbooks into a FREE resource library for travel bloggers.

Subscribe + Review (To Win A Prize!)
Love learning new strategies to help get more blog followers, grow your email list, and become a full time blogger within a year?
Click here to subscribe on iTunes to be notified when new episodes publish.
As this is a new podcast, I'd also be extremely grateful if you'd leave a review right here and let me know your favorite part of the episode or a takeaway you walked away with. By leaving a review, you help the show be seen by more people, helping the episodes to have a greater impact.
Bonus:
Each month, I'll be choosing one reviewer at random to win a FREE seat inside one of my masterclasses.
Winners can choose from:
How To Grow Your Blogging Income Through Facebook Ads
How To Land Paid Press Trips As A Travel Blogger
How To Make Money (Fast) With Affiliate Marketing
Winners will be chosen at random from the reviews and will be notified via email.
PSST, DON'T FORGET TO PIN THIS POST FOR LATER!
#TPTBPodcast
Have a question about one of the strategies explained in the show?
Do you want to share a takeaway with your community?
Please share on Instagram and Twitter using the hashtag #TPTBPodcast.
This not only allows you to interact with the community, but I'll also be monitoring and adding to the conversation to answer your questions and connect with you, too!
Branding Your Blog- Episode 1 Transcript
Hey everyone! Now, if you're new to blogging or if you've been blogging for a bit but are struggling to grow a community around your blog, this episode is going to be really helpful.
Why?
Well, because by the end, you'll have a strategy mapped out for creating your own profitable blog brand; the kind that gets noticed and builds a community of raving fans who can't wait to read your content, click your affiliate links, purchase your digital products, subscribe to your email list — all that good stuff.
Basically, it becomes a lot easier to grow your blog fast when you have a solid brand. And if you ever want to get into blog flipping, it'll make that easier too!
Now before we dive in, I just want to remind you there is a free blog branding workbook that will really help you implement the strategy I'm about to teach.
It's inside of my free travel blog and resource library.
Okay, now let's dive into the strategy so you can learn how to create a unique brand identity for your blog. In my opinion, this should really be your first step — even before launching a travel blog.
Now, Step #1 of this strategy is all about…
Step #1: Have a clear blog brand mission based on helping people
Niching down and determining a clear mission makes it so much easier to monetize your blog from day one and become more profitable in the long run!
I love using the template "I help [group of people] do [how you help]".
Here is how you can create a strong mission for your #blog. #TPTBPodcast
Once you fill in these blanks, your blog will have a clear purpose, which helps people understand what you do, how they benefit, and why they should stick around.
Some examples might be:
"I help mindful travelers find the world's best yoga retreats" or
"I help music lovers find the world's best festivals"
Or maybe you want to really use your platform for good and you "help ethical travelers plan truly sustainable vacations".
Once you've filled in those blanks for yourself, you can move on to…
Step #2: Strengthen your blog brand mission with a "culture add"
Your culture add is that one-of-a-kind thing you do that nobody else does.
Think about:
your own unique skills
your hobbies
your passions
your education
and your experiences when it comes to travel.
For instance, maybe you're a certified yoga instructor or a sommelier, like me. Or maybe you've biked across the USA with your family.
One example in real life is KelleeSetGo!, who explores every place she visits by land, air, and sea. She's a certified pilot and a certified scuba diver. Having this unique culture add has landed her, not one but two television shows on The Travel Channel, so it's a really powerful strategy.
From there we can move on to…
Step #3: Fill a gap in your blog niche
Okay, so by this point you're really beginning to understand what you offer and what makes what you offer unique.
Now would be a good time to do a niche audit.
Make a list of top blogs in your niche and create a pro-con list, diving into what you like — and what you don't like —when it comes to the content, design, and user experience.
This will help you better understand what you want to offer and will also help you fill a gap in your niche because you'll be able to see where there is a gap to be filled.
Hey #bloggers! Here is how to pinpoint a gap you can fill in your niche (so powerful!). #TPTBPodcast
Maybe you target a demographic being left out, or maybe you offer a new perspective on a topic.
Maybe you simplify a typically complicated topic.
A great example of this is Wine Folly.
She has been able to stand out in the wine niche by taking this usually hard-to-understand topic and making it fun, visual and simple.
Her culture add is her design-savvy, so alongside easy-to-digest blog posts and funny but educational wine videos, she'll create bright, visually-appealing typographic wine maps, which she also sells alongside her wine books.
All right, so let's move on to Step #4:
Step #4: Dive into your blog audience's problems
To really paint a full picture of your blog brand, you need to deeply understand your audience.
The clearer you can picture who they are — including their demographics, psychographics, and geographics — the better you'll be able to understand their problems.
My suggestion here is to do some research on this in places where your target audience hangs out, such as niche Facebook groups, Reddit & Quora forums, social media, or even in person at conferences and Meetup groups.
What questions are people asking?
Where do they seem stuck or like they're struggling?
These are really important questions to start asking yourself so that you can really paint a full audience avatar for yourself and you can picture that person in front of you as you write your content. This will allow you to come up with blog post ideas that truly engage your audience and create a repeatable website content checklist.
Okay, let's take this a step further in Step #5:
Step #5: Dive deeper into your blog brand to find audience pain points
Okay, so we've got our mission and an understanding of what we have to offer.
We're also starting to better understand the problems we can solve for our audience.
Now let's get into the pain points; as in, the feelings and emotions surrounding these problems.
Once you can help people achieve positive transformations, you'll really be able to move them.
Here's an example:
Let's say you help women take their first trip solo.
The problem might be a lack of knowledge about a place — so they need tips and itineraries — but the pain point might be a fear that this lack of knowledge about the place might put them in physical danger.
How can you help your reader feel safe?
Now let's talk about…
Step #6: Create content that fulfills your blog brand mission
One major benefit of all of the work that you've done up until this point is that now you have this clear picture of what you do — so you'll never have to worry again about what you should write, what you should post on social media or what your followers want from you.
And, psst, if you're wondering how to do social media marketing, what I've just said is key.
Say goodbye to writer's block, as you'll suddenly become filled with travel blog topic ideas, which can also help you write articles fast as you'll always know exactly what to say.
This is because you'll simply create content — posts, social media shares, newsletters, email opt-ins (like hosting a free challenge or creating a free resource library), and products — that fulfill your mission.
Need help creating a content plan for your #blog? Check out this episode of the #TPTBPodcast!
Now, I titled this podcast episode with the word "profitable" in it for a reason.
Once you understand your mission fully, you can attract people who want something specific from you.
It makes it easy to choose which brands to work with, which products to sell, which affiliate marketing programs to join, and which white label affiliate programs to partake in that will truly resonate with your audience.
So if you help mindful travelers explore the world more responsibly, partnering with ethical tourism affiliates will likely bring you income.
Moreover, creating an online course or an ebook that further helps this audience beyond your free content can help make you profitable.
Here is a personal example:
Promoting tools and resources from affiliate partners that help bloggers — as well as promoting my own online blogging courses — brings in a large portion of my income; however, if I create an ebook on how to make money trading stocks, I doubt that I would do very well.
All right, now I hope you enjoyed this episode. I hope you feel confident to go create your own profitable blog brand.
Don't forget to grab the free blog branding workbook and to subscribe for new episodes so you can continue getting these really powerful bite-sized strategies that can truly help you take your blog full time.
Happy blogging!
Be A Guest On The Profitable Travel Blogger Podcast
If you have actionable strategies to share to help bloggers grow their traffic, community, and income, as well as create profitable and healthy online businesses, I'd love to hear from you!
Note that interview episodes will also be livestreamed on YouTube, so guests need to be comfortable on camera and should have access to headphones, a microphone (or headphones with a microphone), a strong internet connection, and nice lighting (such as studio lighting or a room where you can sit in front of a window).
Please click here to fill out the podcast guest application form.
Stay In The Loop
Do you want to get notified when new episodes publish?
Interested in hearing about opportunities to join livestreamed podcast interviews so you can engage, ask questions, and turn your blog into a profitable business more easily?
Then make sure to opt-in for podcast email notifications sent to your inbox!
You can do that by clicking here.
Do you have additional tips on branding your blog to be profitable?
ENJOYED THIS POST? PIN IT FOR LATER!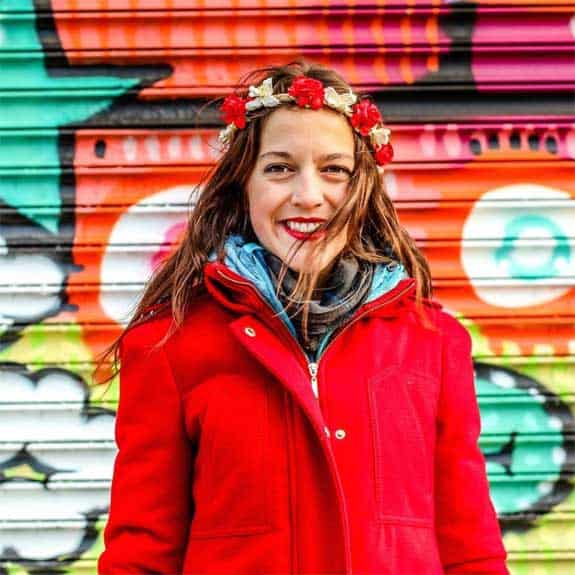 Hi, I'm Jessie on a journey!
I'm a conscious solo traveler on a mission to take you beyond the guidebook to inspire you to live your best life through travel. Come join me!
Want to live your best life through travel?
Subscribe for FREE access to my library of fun blogging worksheets and learn how to get paid to travel more!