How To Easily Create A Unique Brand Identity For Your Blog
I've talked before about the essentials for starting a travel blog to give you a solid base.
And one essential for a solid base:
Aunique brand identity.
During my years as a blog coach, I've seen people who desperately wanted to ditch their 9-to-5 jobs, travel the world and have their voice heard by starting a blog that resonated with their community.
One problem:
These people often don't know who their community is, or even what exactly they want to tell them.
If you're serious about starting a blog — travel-related or otherwise — that's also profitable and engaging, you'll need a unique brand identity.
In this post, I'll be sharing a step-by-step formula for creating just that.
Grab a pen and paper, get comfortable somewhere you can think and let's dive in.
Note:
While the examples below are tailored to travel bloggers, the advice applies to any blogging niche.
Tip: Want to know how to *seriously* turn your travel blog into a profitable business? Click here to sign up for my FREE 5-day blogging course and learn fresh blog monetization strategies.
From Brand To Monetization [Step-By-Step Video]
But first…enjoy learning through video?
Check out this curated playlist of blogging tips and tactics that can help you take your blog full time:
In the recording above, I share my simple strategy for turning your blog into a profitable business — starting with a crucial step in building a profitable blog brand!
Once you've watched, continue reading the post to learn how to easily craft your own unique blog brand identity.
What Is A Brand?
Truth:
Branding is so much more than simply creating a brand logo design or defining a content style guide.
I could dedicate a book to discussing what branding is; put simply, though, it's the promise you as a blogger make — and the story you tell — to your community.
It dictates how people perceive your blog, whether they feel aligned with your mission and values, what words visitors associate with your blog.
A reader may totally jive with the content and user experience you provide, or they may not "get it."
And that's okay; because not everyone is meant to be a part of your brand tribe.
However, there should be a solid group of people who can't wait until you put out your next post, excitedly scroll your Instagram feed, eagerly join your email list and happily purchase your products.
Yes, you read that right.
Because here's the thing; if you nail this whole branding for bloggers thing, you will 100% be able turn readers into subscribers, and then into customers.
Why Is Branding So Important?
Many bloggers hear the word "brand" and immediately picture big corporations like Apple, Microsoft and Starbucks; however, the truth is bloggers should be branding their online businesses, too.
At least, if you want to turn your website into a sustainable business.
And, if you're here, I'll assume you do.
Whether you're Beyonce, Bill Gates or Britney The Traveler, branding helps you in a number of ways.
A) Branding helps you understand your purpose.
You know when you go on an epic trip, but don't know if you should focus your blog post on the cute cafe you had breakfast at, your skydiving adventure, the bar crawl you went on, the art hostel you spent the night in or the helicopter tour you splurged on?
You also love hip hop dance, have a sommelier degree, do yoga daily, are sickly obsessed with horror movies and dream about being covered in kittens every other night, so you'd like to weave that in, too.
Phew. Take a deep breath.
Branding will help you reign that all in.
By the way, I just described myself right there (#CrazyTravelingCatLady), so I know the feeling of wanting to share every single thing you love and every part of your being in every post.
Sometimes, though, it's best to focus on one sole purpose — through one solid brand — to really move an audience.
B) Branding helps you grow a community.
Community.
It's a buzzword in the world of blogging.
And for good reason:
Without a community, it's pretty darn difficult to turn your blog into a profitable business.
Which is why a mission is so crucial.
Once you define your mission, you can easily help a specific group of people.
The more you help them, the more they'll return hungry to your website wanting to eat up your juicy content.
Who knew talking about blogging could make you so hungry?
C) Branding streamlines your work processes.
Hi, my name is Jessie.
This is what I looked like before I had a thorough understanding of my blog brand:
Scary, huh?
Makeup all over my face and no time to shower, brush my hair, get dressed or even notice there's a Post-It stuck to my head.
Yikes!
In all seriousness though, creating a brand for your blog means you know exactly who you're writing for and why; which means you have a deep understanding of the problems and pain points they face so you can craft blog, social and email content to solve them.
More on that below!
Branding For Bloggers: Steps For Building A Blog Brand
Step 1: Write Down Your Passions
This is an important step when creating your travel blog business plan.
Remember, if you want a blog that's here to stay, you'll need to focus on a topic you can write about on a regular basis, indefinitely.
Your goal is to be seen as not just an expert on a topic, but *the* expert.
Really, you as the expert should aim to help people solve some kind of problem around your topic.
So, if you took a Thai cooking class once, or went on a yoga retreat in Costa Rica two years ago and haven't been in downward dog since, these wouldn't make for great blog topics.
Additionally, if you spend a month in Mexico, it doesn't mean you're qualified to create an entire, never-ending publication on it.
However, if you travel the world taking cooking classes in every destination, know every yoga pose (and have even made up your own), or are an American moving to Mexico and wanting to document the triumphs and struggles of your journey, then you've got something to work with.
Got your pen?
Good.
Start making your list, because in Step #2 of this create a unique brand identity for your blog process, we're going to further define these passions.
Here's what my personal list might look like:
Pin me for later:
Step #2: Narrow Your Topics (To Create Your Unique Niche)
You've maybe heard this before, but it bears repeating:
Try to reach everyone and you'll reach few; try to reach few and you'll gain a dedicated audience who sees you as an expert (as long as your aim during the blog content creation process is to be engaging, of course).
Here's the deal:
Saying you're an expert in travel is very broad.
I've been blogging for over seven years and traveling since I was a toddler; however, I still wouldn't say I'm a miles and points expert (that would be The Points Guy) or an authority on dance travel (that would be Mickela Mallozzi).
Where does your ability lie in the wide world of travel? Can you combine any of the passions you listed in Step #1 with travel?
Remember, the narrower the better.
Whether you wrote that you love cocktails, riding trains, skinny dipping, drawing, playing with puppies or eating salad, you can turn this into a travel niche.
Here are a few other niche blogs — in addition to the two mentioned above — to help you see the value in a narrow niche:
Pin me for later:
Step #3: Research What Gaps You Can Fill
When I started Jessie on a Journey in 2011, I noticed a gap in the blogging world:
There weren't many solo female travelers, especially those covering active travel.
Thus, my brand was born.
Along my travels I've also noticed a lot of irresponsible practices taking place, many of which travelers don't even realize are irresponsible.
For example, when I was 22 I took an elephant ride in Thailand, unaware beforehand of how unethical this activity truly is. When the ride was over I felt an intense nausea in my stomach, a feeling that what I'd done had been wrong somehow.
I did some research — which, let's be honest, I should have done *before* the activity — and learned I was right.
How could I have not known the elephant trekking industry literally broke the souls of elephants?
So, in 2012 I also started Epicure & Culture, an online responsible tourism and culture magazine that aims to educate travelers on ethical travel experiences and the beauty of full immersion on the road.
Now, pinpointing how you can fill a gap isn't just about defining a niche.
It's also about defining how you can offer a better user experience, whether that's a fast website, extremely in-depth content, including a voice or humor that's lacking from a niche, showcasing quality video content or something else.
Hint:
While I usually recommend collaboration over competition, while you're researching your blog's brand I advise making a pro/con list of other blogs in your niche.
In this list, you'll jot down what you love about a blog's user experience, content and design, and what you don't.
This isn't just for inspiration, but also so you can find that gap to fill.
This…this…is how branding for bloggers is done, especially if you want to stand out with a unique brand identity (without even having to jump out of a plane naked or anything!).
Pin me for later:
Step #4: Draft A Content Strategy (Around A Mission)
Okay, so by now you know the niche you want to be in, and you've done some research into what's already being done.
Hopefully, you've found some ways to fill a gap.
Let's further fill it — while defining the content you'll craft — with a mission statement.
To start, fill in the blanks to this simple branding declaration:
"I help ___ (group of people) do ____ (how you help)"
From there, you want to craft posts, social media content and emails that work to fulfill this mission every single time.
While there are many content types out there, evergreen how-to guides and numbered lists — especially odd numbered lists — are two that work really well.
Pro tip:
Want to come up with interesting blog post ideas quickly?
One of the fastest ways is to use a tool like Jasper AI, which utilizes artificial intelligence to help you quickly and easily come up with topic ideas, create article outlines, and even draft content. You can click here for a 10,000-word free trial of Jasper.
Pin me for later:
Step #5: Speak To One Audience (Not Two, Not Three)
I get it.
You're nice.
You want everyone to feel included.
You don't want anyone to feel like the last person picked for your kickball team.
Here's the thing, though:
If you don't leave anyone out, you won't be able to really help your target audience.
Here's a (non-travel) example:
Beth Anne of Brilliant Business Moms has a goal of helping busy moms build profitable online businesses. So, she uses language like "Hey Brilliant Lady!" and promotes simple, time-saving strategies that bring results.
She knows her audience is busy, busy, busy, and can't be bothered with anything too complicated, which shows in her content.
By knowing this about her audience and crafting her content after this knowledge, she's able to speak directly to her target audience and truly meet their needs.
Step #6: Think Ahead To Your Products & Services
I know, I know.
You're just pinning down your blogging brand, and already you're supposed to consider what product you'll offer?
Listen though:
Having profit clarity from the beginning can help tremendously when it comes to pinpointing who you want to target and what type of content would attract them.
And, if you're really unsure of what you'd want to create, you can also promote the product or service of an affiliate partner.
Here's the thing:
Whether you define that you want to promote a product you've created yourself or the service of someone else, knowing the benefits of these products and services will help you tailor your content to attract those who would benefit from them.
Here's an example:
Let's say you help families streamline the trip planning process, and your product will (eventually) be an in-depth travel planner.
You'll then know from the beginning that, while you want to help people get rid of the overwhelm of travel planning, you don't want to promote DIY travel planners.
Moreover, you'd want to target families that value time freedom over being budget conscious, because you don't want a community of people who will look at your product and think "Hmm, cool, but I could make this myself."
Make sense?
By the way, I'm an advocate for bloggers creating courses.
Think about it:
You're already priming yourself to be an expert in something and helping your audience through juicy free blog posts, social shares and emails. It only makes sense to further help them through an in-depth, no-questions-left-unanswered course.
This is what I did when I realized a lot of my readers wanted to know more about travel blogging.
Recommendation: I've tried a few platforms for online course creation, but Teachable is by far the most budget-friendly, feature-rich option with stellar customer service. My link gets you a two-week free trial, no credit card required!
Need a visual for how to sell products on your blog? Check out this handy infographic:
Pin me for later:
Step #7: Consider Stories That Let You Open Up
If you think to make it as a professional travel blogger you need to create a brand identity that depicts you as perfect, prim and proper, think again.
When you make a mistake on the road, let your readers know. Heck, I've told tales of everything from having my boyfriend dump me to epic research fails in Eastern Europe and beyond.
I'm not saying you need to share your deepest secrets; however, if something awkward happens to you, or you mess up, consider covering it as a learning experience for your readers.
Remember:
People tend to enjoy blogs and online personalities that are real and transparent.
I know it doesn't seem that way when you look at Instagram (sorry, but I had to), but the blogging world still values raw honesty.
Step #8: Create A Name & Tagline
What's in a name…
Hey Shakespeare, a lot! At least when it comes to branding your blog.
Before signing up for hosting — I recommend Bluehost — it's important to pinpoint a clever name that tells your blog's story.
Ask yourself the following questions:
Do I want to be a personality? Example: Jessie on a Journey.
Do I want to be an expert on a certain location? Example: Medellin Living.
Do I want to be a magazine-style blog? Example: Epicure & Culture.
Can I make my niche apparent in some way? Example: The Broke Backpacker.
Do I want to show a certain side to my personality, for instance, humor or whimsy? Example: Hole in the Donut.
If you're having trouble coming up with a name, make a list of words you want people to associate with your blog, and then use WordHippo to find synonyms for those words.
Pro tip:
When choosing a name for your blog, you'll want to make sure it's available as a URL and on social media.
For example, on Twitter I'm @JessOnAJourney (JessieOnAJourney was too long), while on Instagram I'm @JessieOnAJourney. It doesn't need to be exact, but should resonate as the same brand to those who see it.
You can try adding underscores or removing some vowels if your first choice isn't available.
Step #9: Craft A Tagline That Attracts Readers
As for your blog's brand tagline, while you'll want short, punchy and having personality, the most important aspect will be that it's clear.
The truth:
If it's not immediately evident to a website visitor why they should spend time on your blog, they'll leave.
Help lower your blog's bounce rate by including a tagline that makes it apparent what the benefits of being on your blog are as soon as they arrive.
One simple way:
Use the tagline formula mentioned above.
"I help ____ (group of people) do ___ (how you help)"
Once you have this statement filled in, you can jazz it up and add personality.
Here are a few more tagline ideas:
"Travel [insert benefit] without [benefit challenge]" -> "Travel luxuriously without spending a fortune"
"A community of [insert common audience thread] seeking [what haven't they been able to find elsewhere?]" -> "A community of hikers looking for the road less traveled"
"It's like [well-known thing people like] for [your common audience thread]" -> "It's like a guidebook for women who hate guidebooks"
These are just a few ideas. Honestly, the options are limitless!
In fact, I've created a helpful infographic containing the above tagline ideas as well as a few bonus tagline formulas.
Pin me for later:
Step #10: Remember, Design Counts
In the pro/con list you made above, design should have been one of the aspects you looked at.
Here's the thing:
A branded design doesn't have to mean the sleekest, the brightest or the sexiest; it means that it fits your blog brand narrative.
Take Ryanair for example.
Their simple, bubbly and cartoony site in sky blue and mustard yellow doesn't scream luxury — nor should it, as they're a budget airline.
If you're running a 5-star hotel like Southern Ocean Lodge, however, that design would not convert in the minds of your readers.
Instead, they showcase a blog design that's more glam and glossy:
In other words:
To play the part you also need to look the part.
It's the same as if you showed up to give a science lecture to university students in sweatpants. Your audience likely wouldn't take you seriously no matter how smart you were.
Show up in a nicely pressed suit, however, and you could tell them almost anything.
Step #11: Get WordPress.org (Now)
Continuing on the topic of blog design, this is also where WordPress.com vs WordPress.org come into play.
If you're serious about becoming a professional blogger, you need WordPress.org for the ability to monetize and the versatility in functionality and design.
With the right plugins (only available with WordPress.org or a paid WordPress.com Business plan) and developer, you can make your website look like anything.
As stated above, I recommend Bluehost for hosting, which you'll need with WordPress.org. Their prices start at $3.95 for month, so great for business owners and bloggers on a budget.
One theme I highly recommend is X Theme, which I use for my tour company site NYC Photo Journeys.
The theme isn't like other confusing themes; but instead acts as a drag-and-drop pagebuilder.
You want an image gallery?
Drag and drop it in.
You want to add a section showcasing your product?
Drag and drop it in.
It's a blog design game changer for sure!
Bonus:
Instead of having to download tons of plugins and additional software, the theme comes with almost every customizable option you'd need built right into it. There are 20+ homepage style options built-in, as well.
In short, it took months for me to build out my travel blogs *and* I had to hire a developer, which cost thousands.
It took mere hours to do the same thing on my tour site using X Theme without needing assistance.
Pro tip:
Keep your colors, fonts and repeating branding elements consistent throughout the site.
A few resources for choosing these blog branding elements include:
Design Seeds. They showcase gorgeous colors palettes.
Creative Market. A great place for budget-friendly fonts, colors, designs, elements and more.
Step #12: Create A Content Style Guide That Fits Your Blog's Brand
Once you narrow down your blog's brand identity, you need to consider not just what topics you'll cover, but how you'll cover them.
As in, your writing voice.
Consider what blogger personality you want your brand identity to have, like:
Funny
Sassy
Sarcastic
Serious
Pioneering
Rebel
Source
Protective
Soft
These are just a few examples to get your mind buzzing for your content style guide.
Once you choose the main personality you want to show the world through your blog, consider a few phrases you can use throughout your content to drive it home.
One great example is style blogger and Instagram guru Hilary Rushford of Dean Street Society, who has a whimsical brand meant to inspire her readers to live life with "more joy and less overwhelm."
She often uses terms like "Bettys" to talk about her female community, and signs her posts and emails with a handwritten font stating "With grace & gumption, Hilary"
Her content is open and honest — very honest — and she documents her struggles and triumphs in a raw yet beautiful fashion.
Consider what language you can use, and what writing style, to portray your blogging brand to the public.
For a visual of how language — as well as fonts, colors and graphics — play a role in the visual brand story you tell, check out these before and after screenshots from my personal blog brand revamp:
While the topics I cover didn't change, the brand story I share with my community did.
Before, my site had a very rugged, masculine feel, which isn't really who I am.
What I wanted was something more imaginative, fun and energetic.
Make sense?
Now, let's finish off your unique blog brand identity with a logo that continues to tell your story.
Step #13: Create Your Perfect Brand Logo Design
As stated above, design counts.
Colors, imagery, icons and lines all come together to tell a story; to evoke a feeling.
Your logo plays a part in this.
I suggest creating a mood board on Pinterest to get ideas for what resonates with you and what you want for your blog's brand.
Then, narrow down your board to 2-5 items, and determine what it is you like about each.
You can check out the mood board I created when going through my own re-brand:
Now, if you're not design-savvy (looks down and raises hand), you have a few options:
Hire a designer. I recommend Natalie McGuire Designs.
Create your own brand logo design using Canva. They have plug-and-play templates you can use to create your masterpiece.
Next Steps For Growing Your Blog
Want to learn more about creating a powerful blog brand and monetizing your website?
Here are some recommended next steps:
Bonus Profitable Blogging Tutorials [Video Playlist]
Want to learn more powerful strategies for taking your blog full time?
Check out this curated playlist of blogging tips and tactics that work:
Have any advice to add on how to create a unique brand identity for a new blog?
Pin me for later: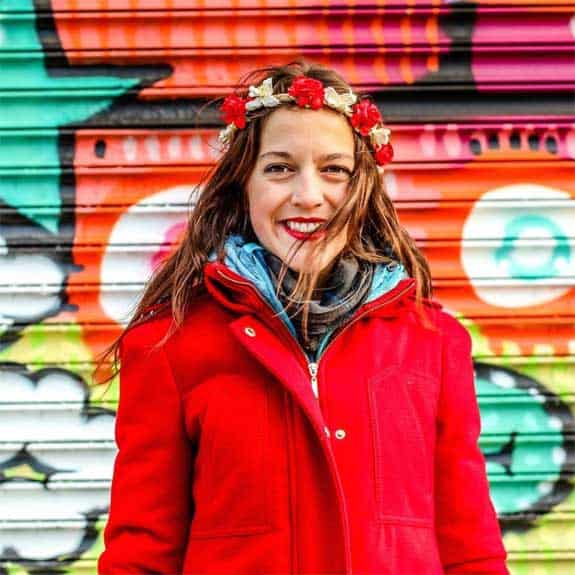 Hi, I'm Jessie on a journey!
I'm a conscious solo traveler on a mission to take you beyond the guidebook to inspire you to live your best life through travel. Come join me!
Want to live your best life through travel?
Subscribe for FREE access to my library of fun blogging worksheets and learn how to get paid to travel more!