How To Land Brand Partnerships At Travel Blogger Conferences [Podcast Ep. 10]
Travel blogger conferences are incredible for landing brand partnerships.
Whether you want to get paid to promote products on Instagram or you aim to find companies that work with bloggers on content creation campaigns, these events offer the opportunity.
The problem:
Many bloggers and influencers have no idea how to actually approach the brands they want to collaborate with.
Luckily, in this podcast episode, I'll be sharing a step-by-step strategy for maximizing your time at conferences so you can get started — or continue — working with brands.
In this episode, you'll learn:
How to stand out from the crowd of event attendees and get recognized by brands
The most important thing you need to do before going to the conference
A strategy for getting brands to respond to your followup emails
An overlooked tip for landing clever brand partnerships through conferences
And more!
Networking At Travel Blogger Conferences – Podcast Episode Audio
Listen to the full episode using this embedded player…
…or click the links below to tune in on your preferred audio platform:
Click here to listen on Apple Podcasts/iTunes
Click here to listen on Spotify
Click here to listen on TuneIn
To help you start getting paid to travel, I'm sharing my free How To Successfully Pitch Brands As A Blogger Workbook.
Along with helping you flesh out a strategy for working with brands, the workbook also includes some of my best pitch templates.
Subscribe + Review (To Win A Prize!)
Love learning new blogging strategies to help grow your website traffic, community, and income?
Click here to subscribe on iTunes to be notified when new episodes publish.
As this is a new podcast, I'd also be extremely grateful if you'd leave a review right here and let me know your favorite part of the episode or a takeaway you walked away with. By leaving a review, you help the show be seen by more people, helping the episodes to have a greater impact.
Bonus:
Each month, I'll be choosing one reviewer at random to win a FREE seat inside one of my online blogging classes.
Winners can choose from:
How To Grow Your Blogging Income Through Facebook Ads
How To Land Paid Press Trips As A Travel Blogger
How To Make Money (Fast) With Affiliate Marketing
Winners will be chosen at random from the reviews and will be notified via email.
#TPTBPodcast
Have a question about one of the strategies explained in the show?
Do you want to share a takeaway with your community?
Please share on Instagram and Twitter using the hashtag #TPTBPodcast.
This not only allows you to interact with the community, but I'll also be monitoring and adding to the conversation to answer your questions and connect with you, too!
How To Make Money Working With Brands [Video]
After you listen to the audio above, watch this:
The mini masterclass above shares three of my favorite strategies for turning unpaid blogger brand partnerships into paid ones, as well as how to approach brands as an influencer.
Best of all, these can work even if you don't have a huge audience.
Brand Blogger Collaboration Templates
Before we dive into the podcast episode transcript, I also want to share a powerful customizable product I've created:
Brand Blogger Collaboration Templates.
This bundle includes two powerful PDF templates that can help you dramatically increase your partnership earnings. These include:
An editable Rate Card Template (with a video tutorial on how to use it to land paid campaigns!)
An editable Custom Proposal Template (again, with a video tutorial on how to use it to land paid campaigns!)
If you're sharing your rates in your pitch email or in your media kit, you're leaving money on the table.
The above templates allow you to earn more than your base rate, while also providing the brand partner with the most powerful campaign possible.
Click here to learn more about sending a brand collaboration proposal in a way that gets a positive response and increases your earnings.
And on that note, let's dive into this episode's strategy on landing partnerships at travel blogger conferences.
How To Land Brand Partnerships At Travel Blogger Conferences: Episode 10 Transcript
One of the main ways I monetize my travel blog is through working with brands and landing paid press trips for travel bloggers.
And a great place to meet brands is niche conferences where the brands you'd want to work with will be.
Of course, you can always email the brands you want to work with or send them a DM on Instagram, but even today when everything seems to be happening online (including partnership outreach), there is no substitute for face-to-face interactions.
By meeting in person you have the opportunity to make a connection and grow a genuine relationship.
It is way easier to be remembered by someone who has actually had a conversation with you than it is to be one of 100+ content creators emailing a brand on a given day.
But how do you maximize your time at conferences and make sure you're truly making those important connections right now?
That is exactly what we'll be going over in this podcast episode.
Working With Brands – Free Resource
Before we dive into the strategy though I want to direct your attention to the show notes, where I have a link to a FREE workbook I've created on successfully pitching brands.
If you want to collab with brands, this will be invaluable.
It's going to show you exactly what you need to do to see success with your brand pitching efforts, and even better, I am going to share with you my best performing email pitch templates.
So, you just put in your own information, and you've got a done-for-you email pitch template ready to go.
Need help #PitchingBrands? Check out this free workbook with pitch templates! InfluencersWanted
Feel free to grab that right now. I'll be waiting.
All right, let's dive into the strategy.
Step #1: Research The Available Travel Blogger Conferences
You can learn a lot at a general blogging conference; however, when it comes to connecting with your dream brand partners it's typically wiser to seek out niche conferences.
If you're a travel blogger, that might mean conferences like the Women In Travel Summit, Women's Travel Fest, TravelCon and TBEX.
This way, you're connecting with brands in your niche, and brands that are actually trying to collaborate with influencers.
Once you find a conference that has what you're looking for, book your ticket.
How To Save Money On Travel Blogger Conferences
Now, I realize that spending money on a conference — especially if you're not yet making money through your blog — can be challenging.
Luckily, there are a few ways you can save money on the conference experience.
First of all, I recommend joining the conference mailing list. This way, you can get notified of any deals or sales. You'll also be the first to know when early-bird tickets go on sale.
Great tips on saving money on #travelblogger conferences *and* networking with brands! #TPTBPodcast
Additionally, most conferences have a dedicated Facebook group for attendees.
This is helpful because you can connect with others who may want to carpool or share a hotel room.
Finally, many conferences will give you a free ticket if you offer to volunteer and help out before and/or during the conference.
On that note, let's move on to…
Step #2: Have A Deep Understanding Of What You Do As A Blogger
You can bet that as you're mingling at evening conference parties and making your way around to the different exhibitor booths, you're going to be asked over and over again:
"So, what do you do?"
Replying "I'm a travel blogger" is not going to help you stand out in a sea of travel bloggers.
Instead, consider filling in the blanks to my favorite template that, if you've been in my community for a while you know very well:
"I help [group of people] do [how you help]".
You might even add on to that, with a template like "I help [group of people] do [how you help] through [what you create] or [what you focus on]".
An example might be "I help women feel confident traveling solo through destination guides, safety gear reviews and videos showcasing women-led experiences."
You can say it however you want, but the goal is to make it clear what you do — so brands can picture how they might align with your blog.
Step #3: Aim For Relationships Over Transactions When It Comes To Brand Partnerships
"Hi! I'm a blogger. Would you host me?"
Cringy, right?
I cannot tell you how many times I've overheard bloggers saying this — or some version of this — to brands at conferences.
Personally, I like to open with a short one-sentence introduction of myself and my blog, followed by a question like, "I'd love to hear more about what you're working to promote this year."
Here is how to #network with #brands at #travelblogger conferences!
This does a few things:
It opens the door for an organic conversation, vs simply getting a yes or no answer to an awkward question.
You gain valuable insight into what the brand actually wants to promote so you can see if it's a fit and pitch them accordingly.
Step #4: Keep The Conversation Going
Luckily, once the brand starts talking about what they're trying to promote, you as a traveler will likely have stories to share.
For instance, I was once at a conference talking to a health brand that created a product to help with sinus pain on airplanes.
We chatted, and I brought up how one of my most popular blog posts was about how I once thought I was having a stroke on an airplane because my sinus inflamed and literally closed my right eye shut and forced my lip to droop.
No joke.
Anyway, it was a memorable conversation, and led to the brand saying "We'd love to work with you and we have a budget."
This was before the conference had even ended!
Step #5: Don't Forget The Followup (& How To Do It Right)
Now if you've done the work at the conference to get to know the brand rep, to have a solid conversation with them, it'll be much easier to include an inside joke or memorable anecdote to help your email stand out from the hundreds of other follow ups the brand is undoubtedly getting.
For instance:
At a recent conference, I was chatting with a tourism board rep and getting to know more about what they were trying to promote.
Eventually, we realized we had a few mutual friends in common.
Here is how to followup with brands after a conference the right way! #WorkingWithBrands #InfluencersWanted
Actually, I'd gone on a press trip organized by one of her close friends, which led to a really great organic conversation — one that I was able to reference in my followup email.
This allowed my followup email to read like a personal email vs a generic "It was great meeting you. How can we work together?" type of email.
Landing Brand Blogger Collaborations At Conferences: Final Thoughts
Yes, business cards are important.
And it's really smart to have a rate card and media kit ready to send out.
But what I think is the most important thing when it comes to connecting with brands at conferences is being a genuine human being that is fiercely part of their own blog brand.
How do you introduce yourself at #blogger conferences? Here is a great tip for creating a memorable intro! #NetworkingTips
Someone who has a story to tell — particularly a story that aligns with the one the brand wants to tell.
Someone who isn't going to take the campaign money and run, but who will be a genuine ally for the brand beyond an Instagram post.
Having this blogger mindset has also helped me personally to land extended campaigns as well as get invited by the same brand or PR agency to work together again.
Want To Land The Best Brand Collaborations? Do This.
Before I end this episode I want to give you one more important tip when it comes to connecting with brands at conferences.
If you have an affiliate marketing strategy, make sure to also connect with your affiliate partners.
Get to know them and how they work with bloggers, and see if there are creative ways you can take the relationship to the next level.
For instance, I met one of my best affiliate partners at a travel blogger conference.
Along with promoting them in blog posts and newsletters, I've co-hosted webinars with them,.
I even had them teach a workshop to my Travel Blog Prosperity members and offer them some special freebies and an extended free trial of their service.
Let's Do This!
Now I hope you enjoyed this episode.
I hope you feel inspired to start attending conferences and connecting with brands at these events.
Don't forget to grab the free brand pitch workbook with plug-and-play pitch templates — and make sure you subscribe so you get notified when future episodes publish.
Happy blogging!
Be A Guest On The Profitable Travel Blogger Podcast
If you have actionable strategies to share to help bloggers grow their traffic, community, and income, as well as create profitable and healthy online businesses, I'd love to hear from you!
Note that interview episodes will also be livestreamed on YouTube, so guests need to be comfortable on camera and should have access to headphones, a microphone (or headphones with a microphone), a strong internet connection, and nice lighting (such as studio lighting or a room where you can sit in front of a window).
Please click here to fill out the podcast guest application form.
Stay In The Loop
Do you want to get notified when new episodes publish?
Interested in hearing about opportunities to join livestreamed podcast interviews so you can engage, ask questions, and turn your blog into a profitable business more easily?
Then make sure to opt-in for podcast email notifications sent to your inbox!
You can do that by clicking here.
Want is your best tip for networking and landing brand partnerships at travel blogger conferences?
ENJOYED THIS POST? PIN IT FOR LATER!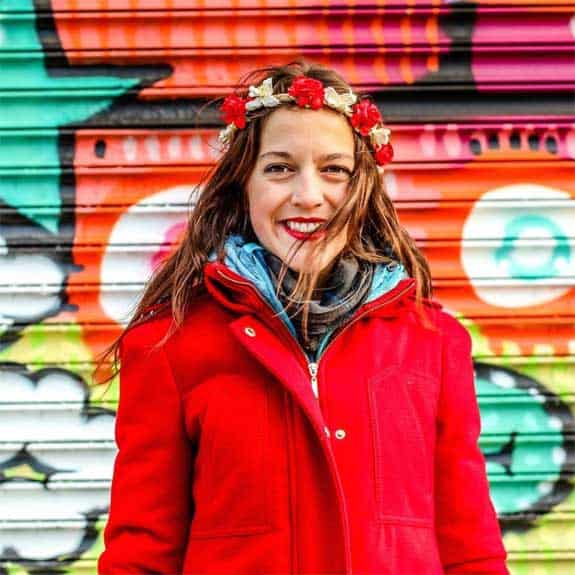 Hi, I'm Jessie on a journey!
I'm a conscious solo traveler on a mission to take you beyond the guidebook to inspire you to live your best life through travel. Come join me!
Want to live your best life through travel?
Subscribe for FREE access to my library of fun blogging worksheets and learn how to get paid to travel more!