10 Memorable Moments In Utah's Ski Country
One-Of-A-Kind-Beer & Healthy Pub Food At Squatters
Located in Salt Lake City, Park City and Utah's international airport, Squatters Pubs & Beers was my first Utah experience — and a memorable one. The brewery and restaurant isn't your average pub. In fact, it's spacious, brightly-lit and features a menu showcasing organic and locally-sourced ingredients. My particular meal was enjoyed at their Salt Lake City location, and I was able to sample a variety of dishes including a 12-ounce all-natural Niman Ranch top sirloin, house yellow curry with charbroiled organic tofu, a hearty chimichanga made with all-natural chicken breast and a "Squatters Bourbon Burger" made with Niman Ranch all-natural 100% ground chuck and topped with cheddar and bourbon-garlic caramelized onions. I recommend pairing your meal with one of their award-winning and one-of-a-kind beers. My personal favorite is the "French Connection," a traditional pale ale featuring a unique hybrid hop — not found anywhere else in the world — combining a female alsace and a male cross of Cascade and Cluster.
The Breakfast at Alta Lodge
Waking up each morning to a hearty buffet breakfast is very necessary when skiing, as you'll need as much energy as possible. A lavish spread of cereals, nuts, fruits, yogurts, eggs, meats, breads, jams, butters and juices lines the table, while servers bring hot meals upon request. The real stand-out in the breakfast lineup, however, is their signature homemade granola. In fact, when you tell people who know the property that you're staying at Alta Lodge, they'll immediately ask you if you've tried it. The recipe is made with rolled oats, coconut, nuts, butter, honey, maple syrup and apple juice for a sweet and satisfying start to your day. The best part is the restaurant offers an expansive window on the mountain-side, so you'll be able to watch the sun rise over the peaks as you eat.
For the detailed Alta Lodge Granola recipe, click here.
Going Down My First Run
As luck would have it, my first run on skis was done at Canyons Resort, Utah's largest ski resort. Canyons features 4,000 skiable acres and a vertical drop of 3,190 feet, 1,440 feet higher than the average for all ski resorts. Okay, so I didn't ski down quite that far, but I did make my first ascent on a true green run, called "Meadow Way." Reaching the bottom unscathed was one of the biggest accomplishments I've ever achieved, and proved it's really never too late to learn to ski.
Falling Off The Chair Lift
While I completed my first ski run at Canyons Resort, this is where I also fell off my first chair lift. The funny thing is this isn't a memorable moment because it was tragic or embarrassing in some way — although I did blush when the lift attendant came running over to see if I was okay — but because it showed me that falling wasn't all that bad. For many people including myself, the chair lift can be scarier than actually skiing; however, my faux-pas showed me it didn't need to be — as well as how not to get off the lift!
Scenic Drives Down Little Cottonwood Canyon
Driving down Little Cottonwood Canyon immerses you in nature and scenic views. Accessed via the 6200 South "Canyons" exit from I-215, you'll drive up a seven-mile winding, steep road with wilderness areas on both sides of you. Because I was there in the winter, the landscape encompassed snow-covered mountains dotted with aspen and spruce, unworldly rock formations carved by glaciers, the Wasatch-Cache National Forest and high alpine meadows. You'll also pass the Salt Lake Temple, a sacred space carved into the mountain where local Mormons keep their most precious and historical artifacts.
A Massage At Golden Door Spa
Located inside the Waldorf Astoria Park City you'll find one of only five Golden Door Spas in the world. Founded by wellness visionary Deborah Szekely in 1958, the brand is touted as the first luxury spa destination ever created. Dedicated to fostering a balance of body, mind and spirit, the sanctuary combines the latest spa advancements with proven techniques and concepts as well as Asian influences.
As soon as I walked into the spa, all my stress melted away as I was greeted by a living wall of green foliage and the serene sound of flowing water. After putting on a plush robe, I made myself a hot beverage in the Tea Lounge and relaxed before being called in for what can only be described as the best massage I've ever had. I opted for a traditional full body massage, and my sore ski muscles felt rejuvenated at the end. Added touches like a hot cloth around my neck, a spritz of rose water on my face and inhaling scents to open my sinuses and awaken my senses enhanced the experience. Afterward, the masseuse brought me a wheatgrass smoothie for energy and water. The spa features much more than just treatments, as there is a repose lounge with heated and reclined chairs, a hot tub, steam room, fitness center and more.
[youtube http://www.youtube.com/watch?v=aOkUg-HEMUw]
Riding The Alpine Coaster
A mix between sleigh-riding and a rollercoaster, Park City Mountain Resort's Alpine Coaster is a lot of fun. You take a chair lift up to the ride, where you then climb in tobbogan-style cars and whiz 4,000 feet down the mountain. The curves and bends will have you giggling while the snow and mountain scenery will leave you feeling enchanted. For a more visual idea of the experience, check out the video above.
Whiskey Cocktails At High West
Located on Park City's iconic Main Street, High West Distillery & Saloon is an old west-themed distillery and restaurant with a rich history. In the 1800s, the building acted as a horse livery for mining horses, and after that as a garage. Today, it is a heritage-listed structure that preserves the history of Park City.
As soon as you enter High West, you'll feel immersed in western saloon culture. With walls lined with bottles, wood furniture and accents, country music and a bar overflowing with whiskeys, you'll either want to do a shot or do the boot scootin boogie. A mix of classic and handcrafted cocktails makes up the menu, all of which sound delicious. In the end, I was able to sample two made-to-perfection libtations: "Dead Man's Boots," a blend of Double Rye Whiskey, tequila, fresh lime and ginger beer, and the slightly-spicy "Cochise," which features fresh grapefruit and lime juices, fresh ginger and Silver Oat Whiskey.
A Private Ski Lesson At Park City Mountain Resort
While I technically completed my first ski run at Canyons Resort, my first really controlled ski run was completed at Park City Mountain Resort after taking a private lesson. My instructor, Ken, was excellent, being extremely patient with me even when I complained about the cold. In fact, he actually bought me hot cocoa and gave me one of his layers — a testament to how dedicated these instructors are to ensuring you have a worthwhile experience. Ken started me off by playing a game of "How Slow Can You Go" to get me practicing controlled turns and stops. Once I realized I was bounding down the mountain without control because I wasn't completing my turns, I was able to complete a green with full control, advancing after that to more difficult slopes.
Gallery-Hopping On Main Street
A stroll down Park City's historic Main Street introduces you to the area's charm, with boutique shops, artisanal restaurants, laid-back pubs, old west saloons and inspiring art galleries. in fact, there are over 15 galleries just on Main Street, not including the many that litter the side streets. While all have something worthwhile to offer, my personal favorite was the Mangelsen: Images Of Nature space. As a traveler, I can never get enough of looking at faraway landscapes and exotic animals, especially when the photographs are taken by someone with a talent for catching rare moments.
My trip to Utah was sponsored by Ski Utah. I was not compensated for this post. All opinions are my own.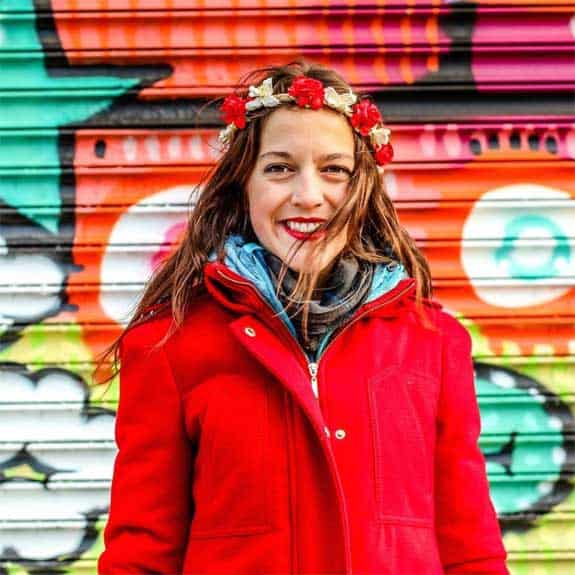 Hi, I'm Jessie on a journey!
I'm a conscious solo traveler on a mission to take you beyond the guidebook to inspire you to live your best life through travel. Come join me!
Want to live your best life through travel?
Subscribe for FREE access to my library of fun blogging worksheets and learn how to get paid to travel more!