My Favorite DIY Culinary Experiences From Around The World
Food is powerful. It has the ability to bring people together, to nourish, to immerse you in other cultures, to teach you about foreign lands. It also has the power to seriously enhance your travel experience, such as with the following food travel experiences:
1. A Cooking Class In A Local Home In The Bo-Kaap (South Africa)
During a trip to Cape Town I was lucky enough to discover Andulela Tours, a company truly passionate about introducing visitors to locals. While I did a few tours with them, my favorite by far was a cooking class in the home of a local in the Bo-Kaap, a colorful area that was once completely Malaysian community known as the Malay Quarter. I got to visit the home of Amina, a Muslim woman of Malay heritage. She taught myself and the rest of the group about the cuisine through a cooking class in her home, where we prepared samoosas, chicken curry, sambal and roti while learning about the colorful and flavorful ingredients. To me, this is what travel is all about. Not just photographing the sights, but interacting with the locals which.
2. A Homestay With Herb Pickers (Slovenia)
I absolutely loved Ljubljana, mainly because it made a great homebase for great day and weekend trips, like a homestay at Herbal House in the small village of Plave. Vesna and her family are herb pickers, and I was able to go into the forest with her to pick herbs and make our own frtalja, made with eggs (from a lady with hens down the street), flour, milk, salt, cheese, sparkling water for softness and the wild garlic we plucked ourselves — not to mention enjoy food, wine and great conversation with the family. It was a delicious immersive experience and the highlight of my Slovenia trip.
3. An Atypically Artful Dining Experience (Copenhagen)
Most people have heard of Chef René Redzepi's Noma Restaurant; however, Radio Restaurant, opened by former Noma sous chef Jesper Kirketerp and Noma co-founder Claus Meyer, is lesser-known — which is a shame! It's rare to have the type of dining experience I had there, where staff are gracious yet knowledgeable, every detail painstakingly thought out and perfectly executed, and the food is a work of art in itself. They focus on "New Nordic Cuisine," which goes beyond farm-to-table and focuses on locally foraged ingredients, seasonal dishes, nutrition and foods sourced from Nordic purveyors to create traditional Nordic dishes. Typically, meals play with texture, ingredient combinations and presentation for creations that are delicious, fresh and even entertaining and surprising.
4. Experiencing EatWith In NYC (Global)
For those sick of restaurant trends and meals that take you away from local culture, you'll be happy to learn about EatWith. I recently tried it in my home of New York City, savoring a progressive Indian dinner in the Financial District high rise of a local chef with nine other women. Not only was the food delicious — Chef Shuchi loves taking traditional Indian dishes and using atypical ingredients — but the wine, conversation and connections made left me seriously hooked on the EatWith concept. Similar platforms also worth checking out include BonAppetour and Feastly, so browse all three to see if they're in your city or a city you're visiting.
5. Farmers Market Followed By Adventure Foraging (Portland, Oregon)
Beer, hiking and a waterfront picnic. This is what this delicious day entailed, orchestrated by Kieron Wiedner of First Nature ([email protected]). The group began by touring (and sampling!) at the Portland State University Farmer's Market, where we perused over 100 stalls and picked up fresh goodies for a picnic lunch later on. But first, we took a drive out to the Columbia River Gorge to forage for forage for hazelnuts, berries and delicious lemon-flavored wood sorrel. The day ends at Thunder Island Brewery — started by Portland homebrewers Dan Hynes and Dave Lipps — which not only serves great beers but offers outdoor picnic table seating and games like Apples to Apples and Corn Hole on the Columbia River.
6. Making My Own Wine In The Barossa Valley (South Australia)
One of Australia's most famous wine regions, the Barossa Valley features a warm climate, isolated location and some of the world's oldest vineyards, leading to delicious Shiraz (especially Old Vine Shiraz), Chardonnay and full bodied red blends. At Penfold's, I had the chance to do a Make Your Own Blend experience, where, donning a lab coat, I mixed wines like a mad scientist, measuring the liquid in beakers and jotting down percentages and tasting notes. Once I was satisfied with my creation, I made a bespoke label and capped my own bottle. It took the typical wine tasting to the next level, with a fun educational component intertwined.
7. Chocolate & Wine Pairing In The Adelaide Hills (South Australia)
South Australia is definitely up there as one of my favorite culinary destinations (although, oddly enough my search for Australia's quintessential dish was slightly maddening). At Hahndorf Hill Winery in Adelaide Hills I savored an enjoyable structured chocolate and wine pairing — called ChocoVino — with the guide explaining the details of each item and why it worked, although also encouraging us to experiment. My favorite lesson of the day was that a high quality chocolate should sound like the giggling of a young girl when you snap it. Try it!
8. Staying At An Agriturismo Castle In Tuscany (Italy)
At Castello di Gabbiano, I not only stayed in a 12th-century castle, living with a family, but I got to see first-hand how they made their wine and olive oil. As you can imagine, dinners were quite the feast, especially when a vertical tasting — when you try two vintages of the same wine to see how they've changed over time — starts the evening with 12 wines and moves into a multi-course meal of homemade egg tagliatelle gowned in fresh truffle, Pecorino cheese boards, peposo di manzo and sweet cantucci biscuits. During an onsite cooking course, I even learn how to make some of these Tuscan specialties. I also tour their olive oil farm and plant, seeing how ripe olives are hand plucked to be processed into good-for-you extra virgin olive oil. Yum!
9. Farm-To-Fork Creole (New Orleans)
It's hard to pick just one restaurant or bar as the best — although you can see some highlights here for New Orleans drinks and here for New Orleans restaurants. When I imagine my trip to NOLA, though, one cherished memory that always pops into my head is Eat New Orleans.
And then my mouth instantly begins to water.
I can still feel the sun rays pouring through the window of the brightly lit room, simple magnolia-adorned white clothed tables and walls featuring rotating local artwork swathed in the glow. The menu focuses on classic Creole and Cajun dishes made with locally-sourced ingredients, with everything made from scratch except for the bread. The goal of the restaurant is to help support the local farmers and fishers, while also providing a casual ambiance and quality dishes for restaurant patrons.
I began my farm-to-table experience with an appetizer of homemade Crawfish Boullettes — essentially hush puppies stuffed with crawfish, breadcrumb stuffing and seasoning and served with a spicy remoulade sauce — before moving on to the Cochon with Mustard Greens lunch plate. The Cochon features slow-cooked pork squares with crispy outsides and pull-apart insides, served over mustard greens that are cooked in chicken stock to take out the bitterness. Of course, I don't leave without sampling one of their homemade desserts, a rich Banana Cream Pie with a crumbly crust and fresh banana slices hidden under the creamy pie. Fresh strawberries and blueberries drizzled with sweet ganache are served on the side.
10. Falling In Love With Margaritas (Albuquerque, New Mexico)
All my life, or at least since I was 16 21, margaritas have always left my teeth with a filmy grindy feeling.
This led me to believe I hated margaritas; however, my eyes were opened during a trip to Albuquerque, when I realized when made with fresh lime juice margaritas can actually be delicious. I especially enjoyed them at Sadie's of New Mexico, where their margaritas were extra refreshing with their spicy food, and Garduno's of Mexico, where their expansive margarita menu had flavors like Coconut, Prickly Pear, Jalapeno and Blood Orange.
11. Doing DIY (Japan)
I'm all about experiences, and while I love going out to eat at a great restaurant, there's something extra memorable about interacting with your food. When traveling through the Kansai Region of Japan last year I stumbled a variety of do-it-yourself dining styles, each delicious and fun. While yakiniku (Korean-style barbecue, or Japanese-style, depending who you ask) often features tables that double as grills, Kushiya Monogatari allowed me to fry my own meat, seafood and vegetable skewers at the table. Shabushabu is also fun to make — and say — as you swish chopsticks clutching bites into boiling broth to cook it hot pot-style. These types of dining experiences really helped me appreciate what I was eating.
12. Learning To Make Chocolate On The Sunshine Coast (British Columbia)
When local entrepreneur Amber Stoby came to the Sunshine Coast from Vancouver, she found herself needing a source of income. She decided to take her hobby of chocolate making and see if she could make it into a career. After attending pastry school in Vancouver, completing workshops in France and working with instructors at Vancouver Community College, Amber now runs Le Petit Souris Chocolate, a handcrafted chocolate and truffle business that sources organic fruit and nuts from local farmers. I loved visiting her production space and learning how to make my own caramels, raspberry bars and other luxury chocolates. You can make your own appointment by emailing [email protected]
These are just a few of many amazing food travel experiences I've had while on the road. What would you add to the list? Please share in the comments below.
Recommended Reads:

Hot Sour Salty Sweet: A Culinary Journey Through Southeast Asia by Jeffrey Alford

The New Taste of Chocolate: A Cultural & Natural History of Cacao with Recipes by Maricel E. Presilla

Drink: A Cultural History of Alcohol by Iain Gately

Street Food of India: The 50 Greatest Indian Snacks – Complete with Recipes by Sephi Bergerson

Culinary Recipes of Medieval England by Constance Hieatt
Also Check Out:
How To Eat Fufu In Ghana, Africa
Tasty Travels: Learning To Make Soba Noodles From Scratch In Japan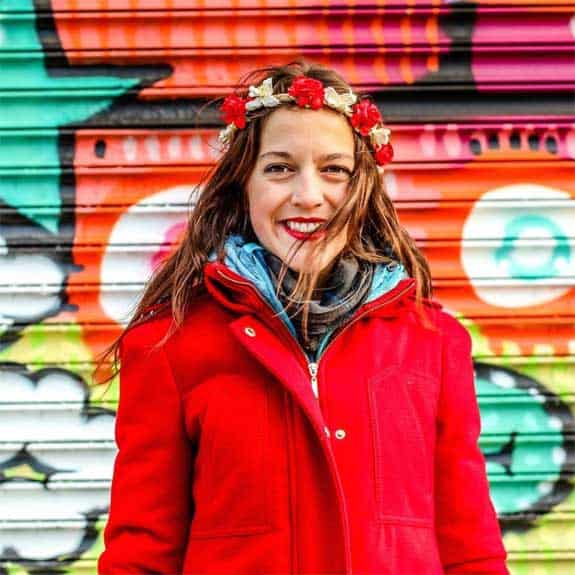 Hi, I'm Jessie on a journey!
I'm a conscious solo traveler on a mission to take you beyond the guidebook to inspire you to live your best life through travel. Come join me!
Want to live your best life through travel?
Subscribe for FREE access to my library of fun blogging worksheets and learn how to get paid to travel more!