10 Secrets To Traveling On A Budget In Berlin
People may not think traveling Berlin on a budget is possible, what with it being such a hip city.
Additionally, it's one of the world's most exciting destinations thanks to its ever-growing cultural scene and energetic nightlife.
This much-loved metropolis attracts young travelers from all over the globe, making it one of the fastest growing tourist destinations in Europe. And while this may suggest that Berlin is very expensive to visit, it doesn't have to be.
In this post, I asked travel bloggers who are experts on Berlin to share their tips and little-known tricks for saving money when visiting the city.
If you're traveling to Berlin on a budget, this Germany travel guide can help! Make sure to add the following unique experiences to your itinerary.
Ps: After reading the below, make sure to check out The Greatest Girl In The World's tips for making Berlin the perfect city break. And if you're not sure which neighborhood to stay in, Travellers Point has a great guide.
Psst! Don't forget to pin this for later!
1. Enjoy some free entertainment at Mauerpark
I'm a sucker for budget Europe travel experiences — especially when they're free!
If you happen to be in Berlin on a Sunday, I recommend heading over to Mauerpark for some free entertainment.
The outdoor amphitheater plays host to karaoke sessions where anyone can get up and have their moment in the spotlight — the wackier the better!
Aside from free karaoke, a lot of bands set up around the park playing outdoor gigs for anyone who'll listen, and you also have a flea market where you can rummage for treasure, and plenty of food stands to keep you well fed.
Whether you only have 2 days in Berlin or are there for longer, Mauerpark is a must-visit!
2. Stay at a cheap luxury hostel
My top tip for visiting Berlin would be to search for a luxury hostel that provides you with everything a hotel can — but at a fraction of the cost — and that comes with a more social aspect. I stayed at Generator Hostel in Berlin last January and loved the fun concept of the hostel.
Breakfast was also included and in the evenings we sat in the bar downstairs with other like-minded travelers.
Budget luxury at its best! And to save money on food, why not grab lunch or dinner from many of the street vendors around the city?
Grab a Brezel, Kasespatzle or even a famous Schnitzel for next to nothing!
– Sophie Davis from Sophie's Suitcase (Facebook, Instagram & Twitter)
Pro tip:
Also, keep in mind there is some delicious vegan food in Berlin!
3. Look for budget eats in the district of Friedrichshain
If you are looking for very cheap food in Berlin (that's still tasty!) you should make your way to Friedrichshain.
On Simon-Dach-Straße there are two places called Pizza Dach and Döner Dach, that sell – surprise — pizza and döner (Kebab) – from 3,50€. And it's not a spice of pizza; it's an actual 10-inch pizza pie.
And the best thing about it?
It's open day and night!
– Lisa Krüger-Franke from Anywhere's Perfect (Facebook, Instagram & Twitter)
4. Stay in an apartment, go on a free walking tour & drink beer in the streets!
We recently spent a week in Berlin and fell in love with the city! It's a place that can definitely be traveled to on a budget.
For accommodation, we recommend looking for apartments, rather than hostels. We spent €90 per night on a double room hostel that was the size of a shoebox, yet for €80 per night we had a 2-bedroom apartment that we shared with another couple!
Have a look at Booking.com for deals.
To learn more about the city, there is a free walking tour that you can do.
Check out Original Berlin Tours, or Alternative Berlin.
For a cheap night out, grab yourself a beer from one of the little shops and sit out on the street! Many people do this so you won't look weird sitting on the curb with a beer in hand.
Another option is to grab a bottle of wine (also very cheap in Berlin), and head to Tempelhof Park (an old airstrip) to watch the sunset.
There are endless things to do in Berlin on a budget, so don't miss this amazing city!
– Dariece and Nick from Goats On The Road (Facebook, Instagram, Pinterest, Twitter & YouTube)
5. Buy drinks from Spätis
Prior to moving to Portugal, we spent a year in Berlin. Here are some of the ways we saved money. Firstly, most Spätis (convenience stores) sell beer and have tables and chairs outside where you can sit down.
This means you pay shop prices and not bar prices, saving you a couple of Euros for every drink. When you're done, return the bottle to get your Pfand (deposit) back.
Secondly, when buying single tickets on the metro there are two options; (Normaltarif) and 4-Trip-tickets (4-Fahrten-Karte). Choosing 4-Fahrten-Kartewill saves you around €1.80 every 4 trips (aka another Späti beer).
– James Cave from Portugalist (Facebook, Instagram & Twitter)
6. Feast on currywurst and kebab
It's easy to find delicious budget-friendly meals in Berlin, but only if you know where to go! Currywurst is a spicy Berliner favorite, and Curry 66 serves some of Berlin's best.
For about €4, you'll get currywurst with fries.
If you feel like having Italian food, head over to La Pausa, where you can grab a gigantic (really, we mean gigantic!) slice of gourmet pizza and a drink for €4. Lastly, you can't leave Berlin without a good döner – and Imren Grill is just the place.
For about €3, you're guaranteed a delicious Turkish meal and a full happy stomach!
– Maddy and Mauricio from Travel Alphas (Facebook, Instagram, Pinterest & Twitter)
7. Buy a Berlin Welcome Card
Berlin is actually a really cheap place. For good and affordable food, go to Berlin Kreuzberg or Neukölln.
If you want to go on a bus tour, just take the regular line 100. If you bought your Berlin Welcome Card — which you should do because you save tons of money on museums, transportation and other sights — you will get the tour for free.
Bus 100 passes through all the important sights, from Unter den Linden to Brandenburg Gate to the Reichstag and many more.
And for a special lunch date visit the Berlin Concert Hall on a Tuesday. Concerts are for free.
8. Spend a night at a club
Berlin has some of the best nightlife in Europe, if not the world. Some of these famous clubs, such as the Berghain, actually open their doors throughout the entire weekend.
This means you don't even need to find a hotel or hostel to crash at, simply queue your way into the club and remain there for the entire night!
– Nam Cheah from Laugh Travel Eat (Facebook, Instagram, Pinterest & Twitter)
9. Visit the Farmer's Market and book a room at a budget hostel
Since I am based in Germany, I visit Berlin often. If you want to stay in a fabulous location in the city without paying loads of money my two recommendations are the Ibis Budget Kurfürstendamm or The Circus Hostel. The Ibis Budget Kurfürstendamm is a low budget chain, but it is super clean and right across the street from the famous Ka De We department store.
Quick tip: Don't eat at the cafe in the Ka De We. The food is priced by weight — which is expensive — and it all looks much better than it tastes. Instead eat at the Wittenbergplatz Farmers Market right by the Ibis Budget. The food there is cheap and amazing!
My second recommendation is The Circus Hostel located in Rosenthaler Platz. This is the best hostel in Berlin. The rooms are cheap and clean, and the staff is amazing. They have an all-you-can eat breakfast buffet that is open until 1pm and their own microbrewery. If you want to rent a bicycle to explore Berlin, you can rent it directly from the hostel. They also offer free walking tours throughout the week."
– Sheila Smith from Passport Perfection (Instagram)
10. Go for a delicious and cheap Vietnamese meal
Berlin is a city that's well-known for being cost-effective.
Even in the city center, the expensive places are still cheaper than the ones you find in other cities; but, that doesn't mean you should still pay those prices. Vietnamese restaurant Mammam, located in the dining and drinking hub of Friedrichshain, is a small family-run hole in the wall. Your mains won't cost more than €7 and all cocktails are €3 all day, every day.
Seating is limited, but you have the option to sit outside.
– Hannah Stein from Universal Jetsetters (Facebook, Instagram, Pinterest & Twitter)
What are your tips for traveling to Berlin on a budget?
Liked this post? Pin it for later:
Further Exploration:

Lonely Planet's Europe On A Shoestring [Great Reads]

Clever Travel Companion Pickpocket-Proof Garments [Travel Safety]

6 Resolutions For More Travel & Less Stress [Blog Inspiration]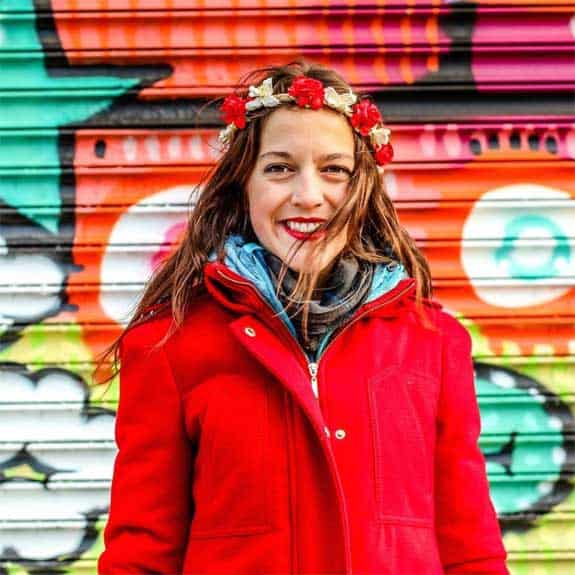 Hi, I'm Jessie on a journey!
I'm a conscious solo traveler on a mission to take you beyond the guidebook to inspire you to live your best life through travel. Come join me!
Want to live your best life through travel?
Subscribe for FREE access to my library of fun blogging worksheets and learn how to get paid to travel more!